Our Cooperative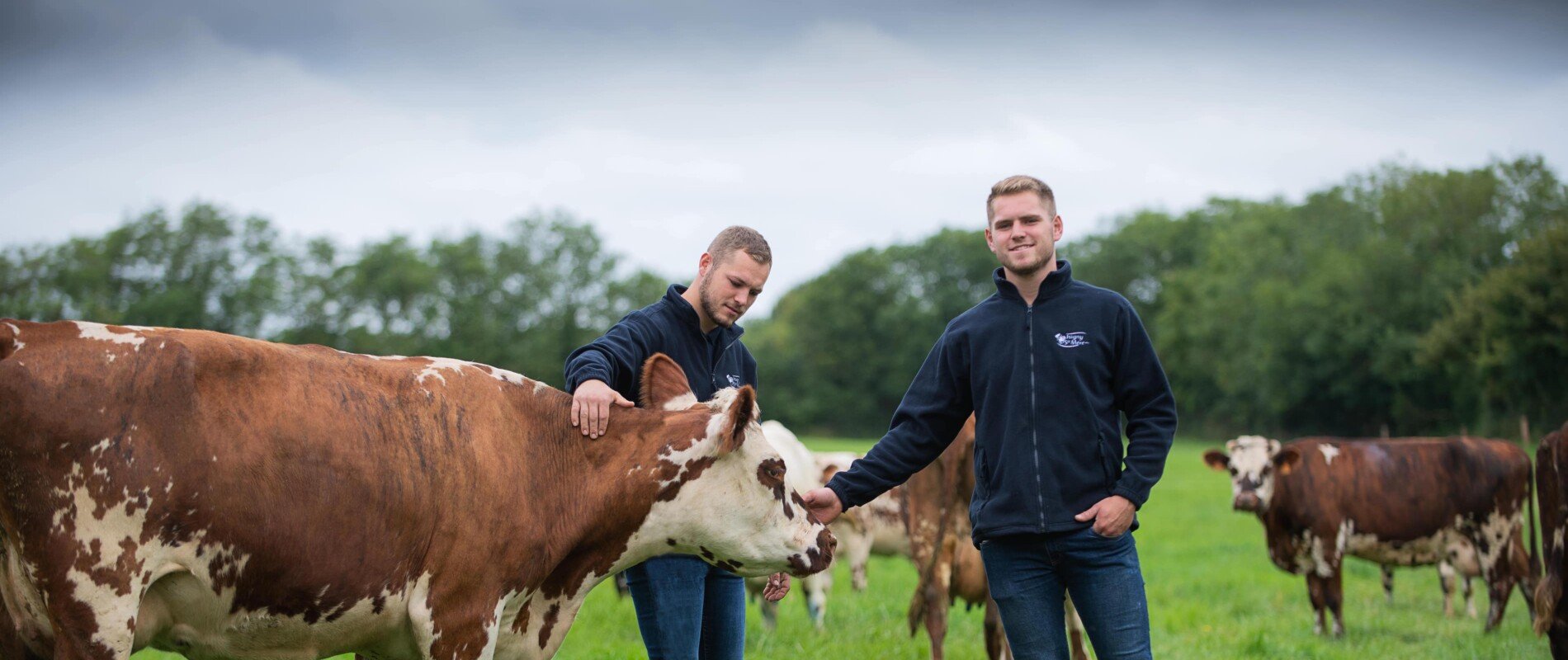 The Isigny Sainte-Mère Cooperative: where tradition, commitment and modernity meet
It was the morning of 3 June 1909, the wind blew across the Normandy coast, while the sun gently warmed the fauna and flora of the Baie des Veys.
They did not know it yet, but that morning, a small group of farmers were about to lay the foundations of the cooperative model that we have taken care to preserve since the beginning of the last century.
Our Cooperative owes a great deal to those producers, who truly believed in the project to join forces for fairer pricing for their milk.
At the time, they did not hesitate a single second to mortgage their farms in order to support this project.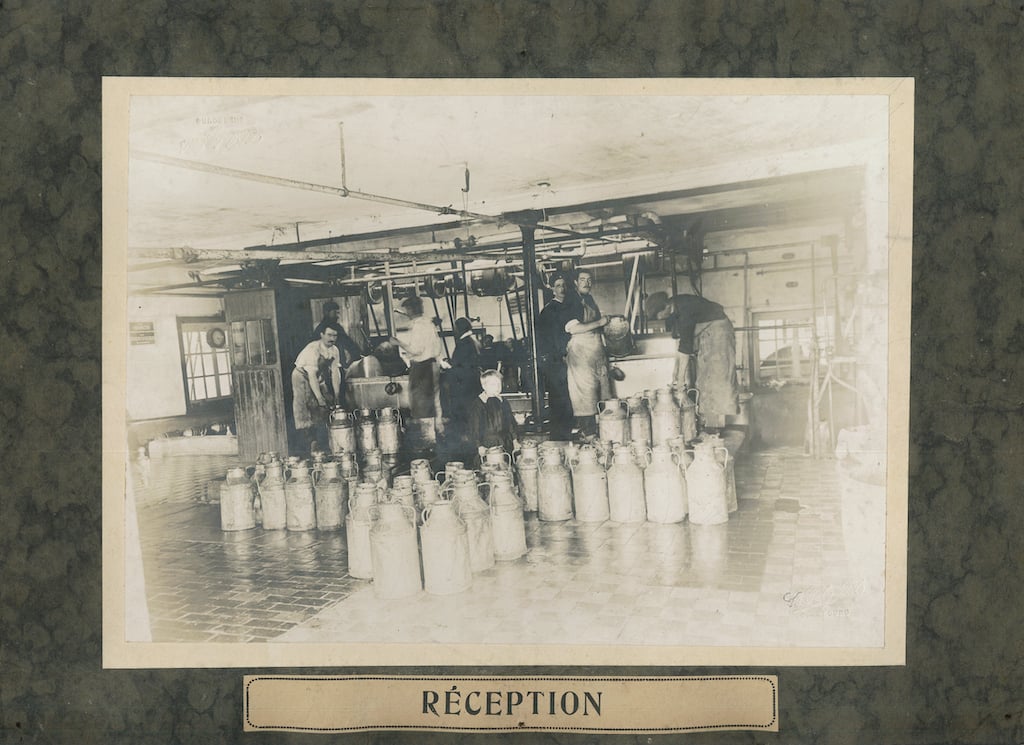 This strong signal of commitment was already pointing towards the traditional values we uphold today: a Cooperative that respects people, their terroir and their environment, and which has sought to uphold and preserve authentic and traditional know-how for more than 110 years.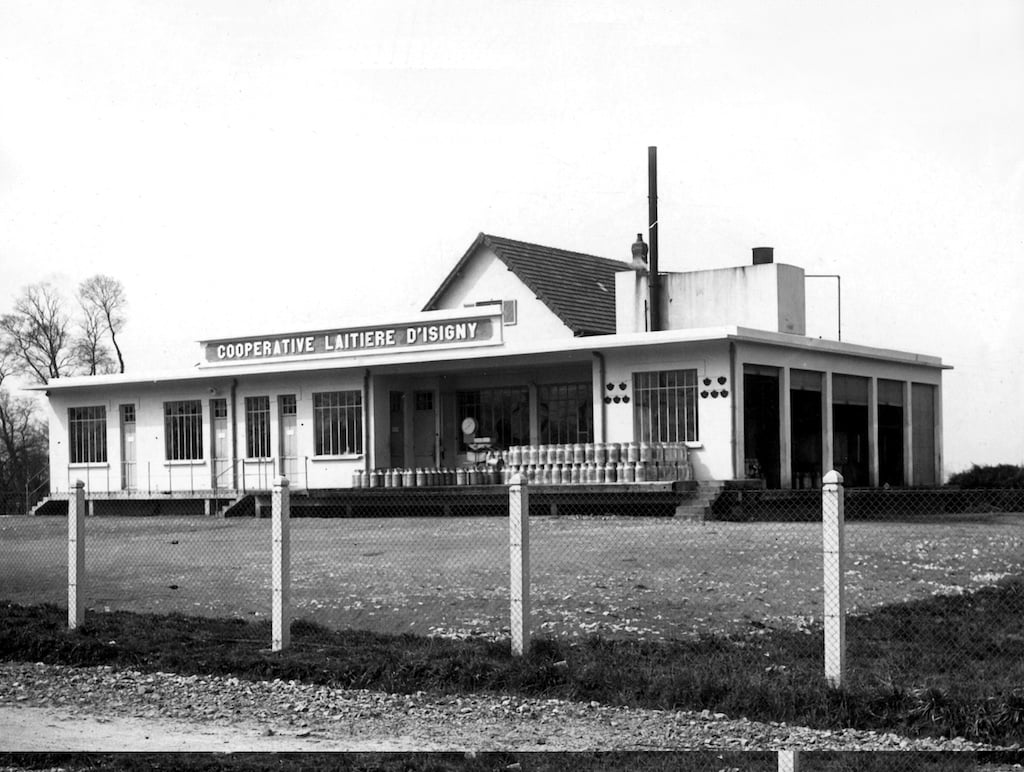 The Isigny Sainte-Mère Cooperative venture began with the construction of a dairy in Chef-du-Pont, a village near Sainte-Mère-Église.
As early as 1910, the Sainte-Mère-Église dairy cooperative was already receiving 20 horse-drawn carriages carrying 11,000 litres of milk from 90 farms!
In 1911, just one year later, the collection had increased to 6 million litres of milk and had 200 members.
In 1932, in the neighbouring county, 42 milk producers located around the town of Isigny-sur-Mer also decided to join forces and pool their milk to produce and market Isigny Butter and Cream along with Normandy cheeses.
This project led to the creation of the Isigny-sur-Mer Dairy Cooperative.
In 1979, the idea of a union between the Isigny-sur-Mer and Sainte-Mère-Église Cooperatives emerged, and this became a reality in 1980.
With additional collection areas and a shared ambition, the two cooperatives merged to create the Isigny Sainte-Mère Cooperative.
1980
Union between two cooperatives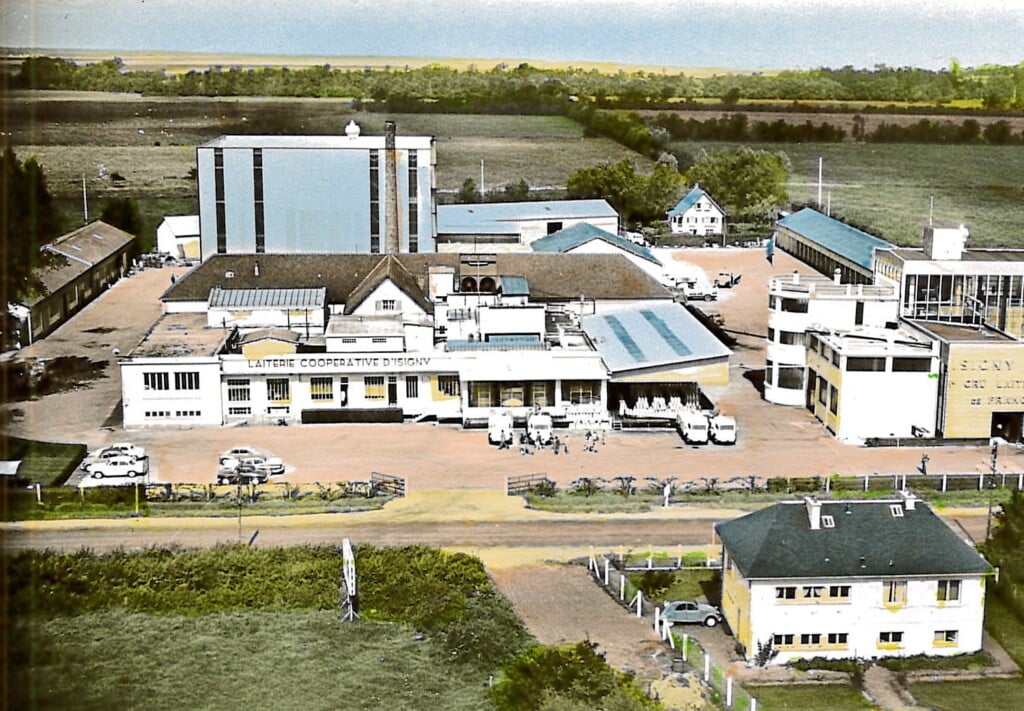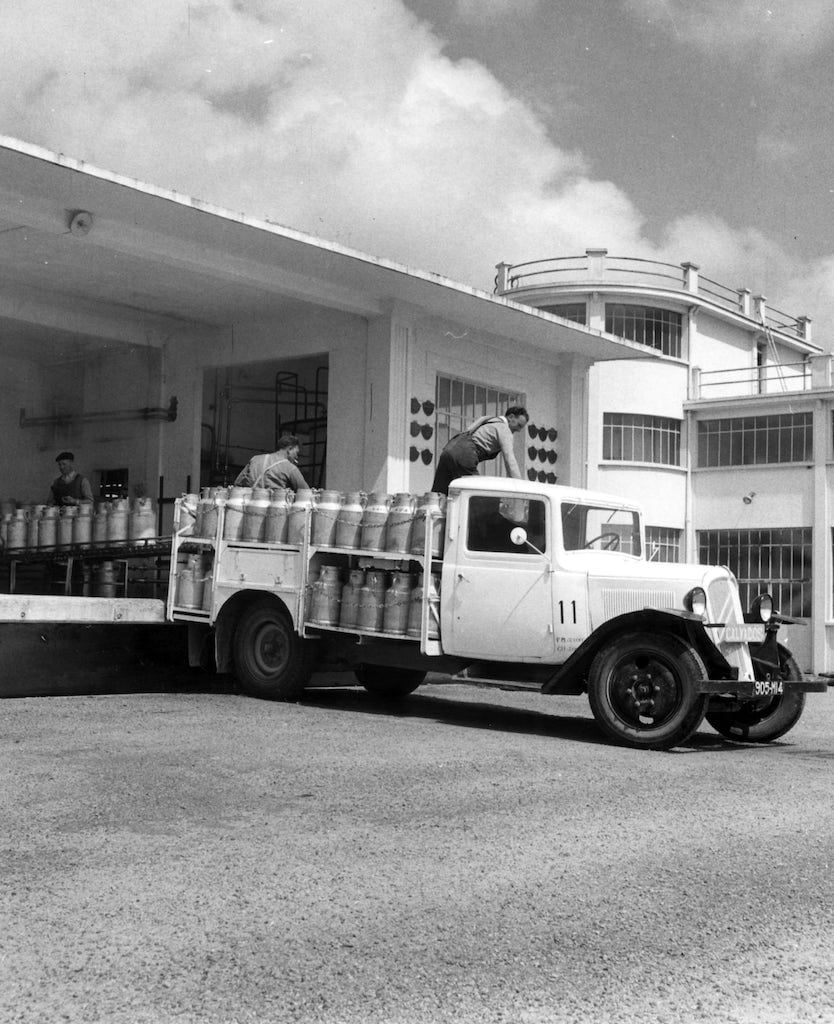 Through the years, our Cooperative has always demonstrated its ability to adapt in order to face various challenges.
It is our duty to preserve and uphold our cooperative model along with the values of self-sacrifice and high quality products that continue to drive our Cooperative's teams on a daily basis.
To achieve this, we have remained united and focused on a shared ambition: to produce and transform a high-quality raw material to create delicious products, and to share the taste of our exceptional terroir with customers around the world.
As cooperative members, we take care to protect both this famous terroir, our dairy "Garden of Eden", and also our mindset: a sense of independence that has been felt through our cooperative for more than 110 years and that we carefully maintain.
An exceptional terroir to be protected
Isigny's terroir, its biodiversity, its fauna and flora have received a great deal of attention for preserving, in the years to come, this precious environment, which is capable of providing milk of identical quality to that produced by the 42 founding farmers over 110 years ago.
A prestigious, noble and superior-quality unpasteurised dairy product which gives unique sensory properties to our Isigny PDO Butter, Isigny PDO Cream, our cheeses (Mature and Extra-Mature Label Rouge Mimolette, PDO Camembert, PDO Pont l'Évêque) and all the delicious products we make for everyone of all ages to enjoy.
To achieve this, our Cooperative ensures respect for people, the environment, safety and the quality of our products, which are the essential conditions for its long-term future.
The Cooperative, a societal model that permeates all our activities
At a time when many companies are looking into new models that are capable of putting people back at the centre of their organisations, our cooperative model has never been more relevant, since it is the men and women who are the beating heart of our business and our development.
Isigny Sainte-Mère is an employer, a group of milk producers, a processing company, a manufacturer of dairy products, and a Cooperative, all at the same time. This means thousands of people are linked to our Cooperative to different degrees, and we have always been able to count on their commitment to uphold this mindset and vision which have shaped the reputation of our products, our terroir and, of course, the reputation of the Isigny Cooperative in France and around the world.
around the world distribute Isigny Sainte-Mère products from our Normandy terroir
men and women, who are involved in manufacturing and marketing our Isigny Sainte-Mère products
Our commitments as Cooperative members
At Isigny Sainte-Mère, we are cooperative members by nature, having been born into a terroir that is at the heart of a dairy heritage, which has raised entire generations since our great-grandparents. We share a philosophy, values and ethos, and we are committed to preserving our terroir and our family farms.
At Isigny Sainte-Mère, naturally our passion, but also our high standards guarantee respect for our traditional know-how and, of course, the food safety and quality of the products we produce within our Cooperative.
At Isigny Sainte-Mère, entire generations and families have been involved in this dairy venture to make it a Cooperative which is renowned worldwide.
Being a cooperative member means being counted: 1 Person = 1 Vote
As Cooperative members, we are also Isigny Sainte-Mère shareholders.
The prevailing principle is: 1 Person = 1 Vote, regardless of status, regardless of responsibilities and regardless of the volumes of milk produced on each farm.
The Board of Directors makes the necessary decisions that arise when conducting business. We are therefore not just observers, and our interests are not just financial, we are also co-owners of our production facility, artisans of the raw material and therefore guarantors of the quality of our products.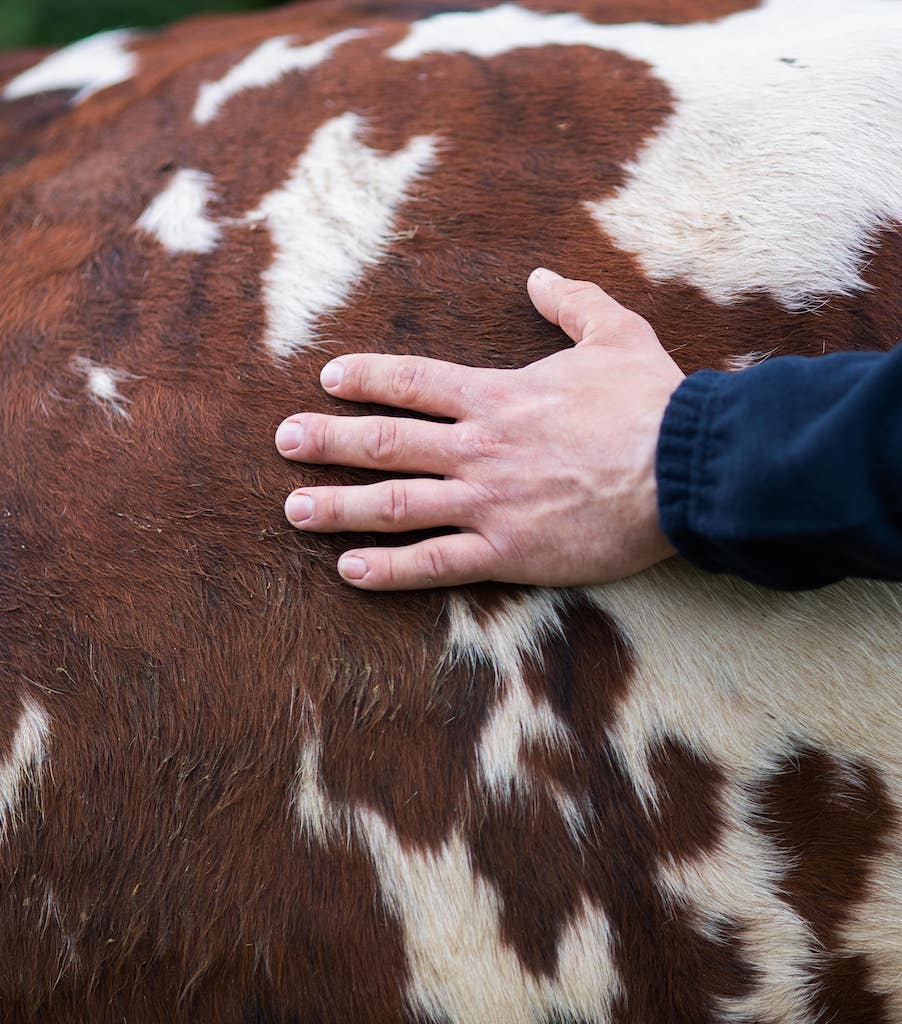 Our Board of Directors then elects its representatives, such as our current President, Arnaud Fossey, and grants a mandate to the Senior Management. Our Senior Management, composed of Daniel Delahaye and Gérald Andriot, is responsible for monitoring and guiding the company.
The tasks of the Board of Directors
The Board sets the long-term areas of focus.
The Board delegates day-to-day management to Senior Management.
The Board approves short-term and medium-term investments proposed by Senior Management.
The Board monitors management and decision-making.
The Board meets regularly to look into the company's activities.
The Board approves the annual accounts and proposes the allocation of profits.
The milk price fixed each month is a deposit price and the final annual price depends on the allocation of rebates paid after the general assembly, if the financial result allows it following a decision by the general assembly, which decides and approves the distribution of the final profits.
The Cooperative, a structure that keeps up with the times
Our Cooperative model enables us to guarantee the quality of our products.
As dairy farmers, we are also shareholders, so we aim to produce high-quality milk with full traceability.
Our Cooperative model enables us to protect our terroir.
We live in the heart of the Isigny terroir, so we are determined to preserve it.
Our Cooperative model enables us to make collective decisions.
We are involved in decision-making, they benefit everyone within a shared interest.
Our Cooperative model helps to boost the local economy and culture.
We support a region by creating economic activities and jobs thanks to a long-term strong local presence. We are involved in local life, sports, associations and gastronomy, and strive to promote Normandy in France and around the world.
every day with Isigny Sainte-Mère infant milk powder
Isigny Sainte-Mère, a local terroir with a global reach
Our Cooperative turned to exports very early on, largely due to the fishing port of the small town of Isigny-sur-Mer, which made it quicker to access this international market.
Isigny Sainte-Mère, for example, introduced matured crème fraîche to the United Kingdom, with a population that until then had sworn by "Sour Cream" alone. A little before the French Revolution, 3.9 million pounds of Butter per year were already being shipped to the West Indies, the Dominican Republic, the United States and European cities such as London and Antwerp.
Today, it is possible to enjoy Isigny Camembert in Tokyo, Mimolette in New York, and Isigny PDO Butter in Seoul. However, it should not be assumed that at Isigny Sainte-Mère the export aspect is limited to shipping dairy products around the world.
For our Cooperative, exporting also means conveying the foundations of our reputation and longevity, namely: our rigour, our know-how, our high-quality products, our Normandy cuisine and, of course, our unique terroir where all our products come from.
From New York to Taiwan, Paris, Shanghai and São Paulo, we promise our customers that when they enjoy an Isigny Sainte-Mère product, they will experience the authenticity and quality of our terroir, wherever they are in the world.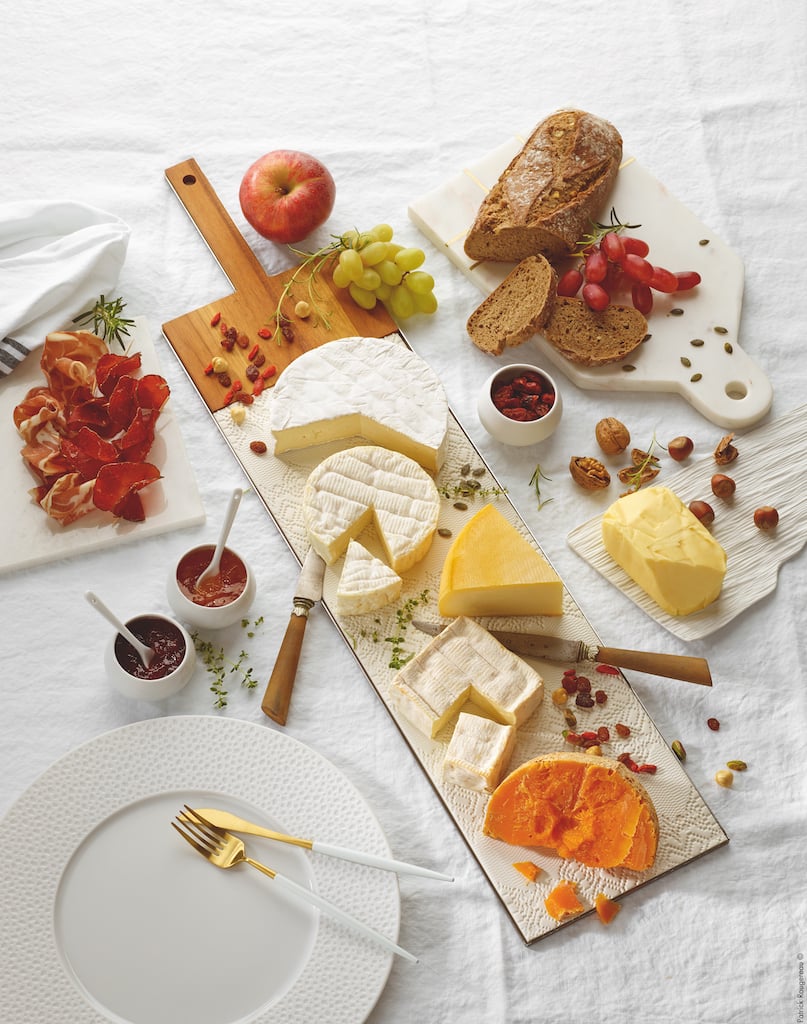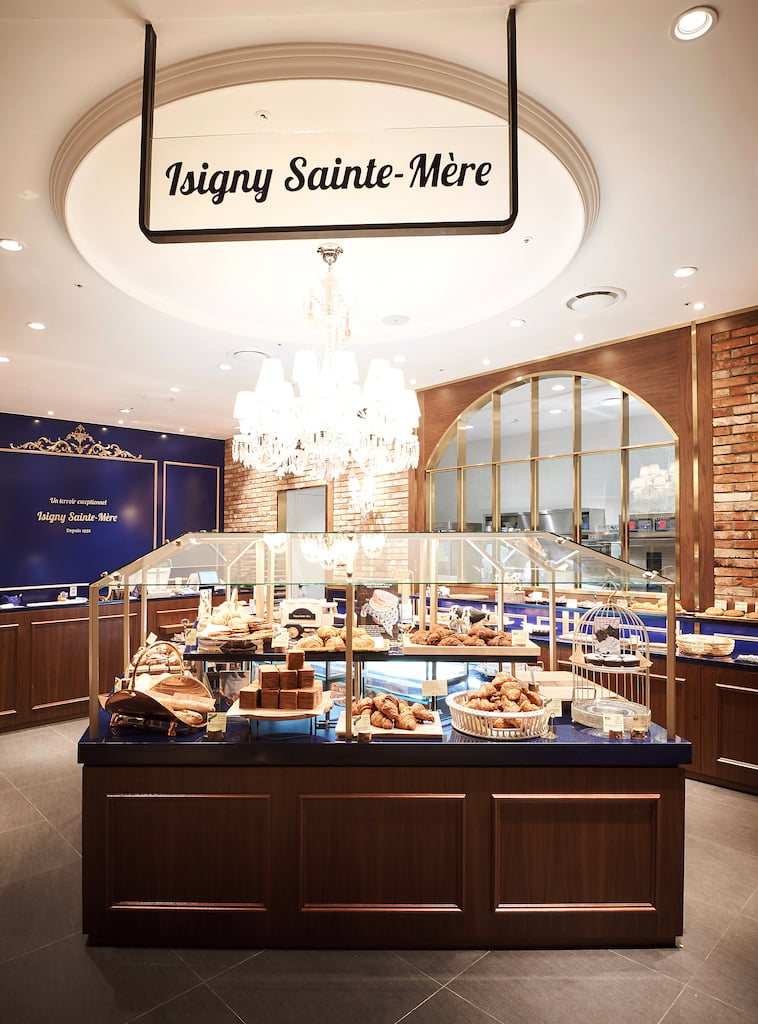 In South Korea, you can even buy our Butter in three shops dedicated to our Cooperative. They offer a selection of products and pastries made with Isigny Sainte-Mère Butter among the luxury malls of department stores.
The export venture also enables us to develop our current production methods and constantly reassess them, in order to ensure that our customers worldwide receive products of the highest quality.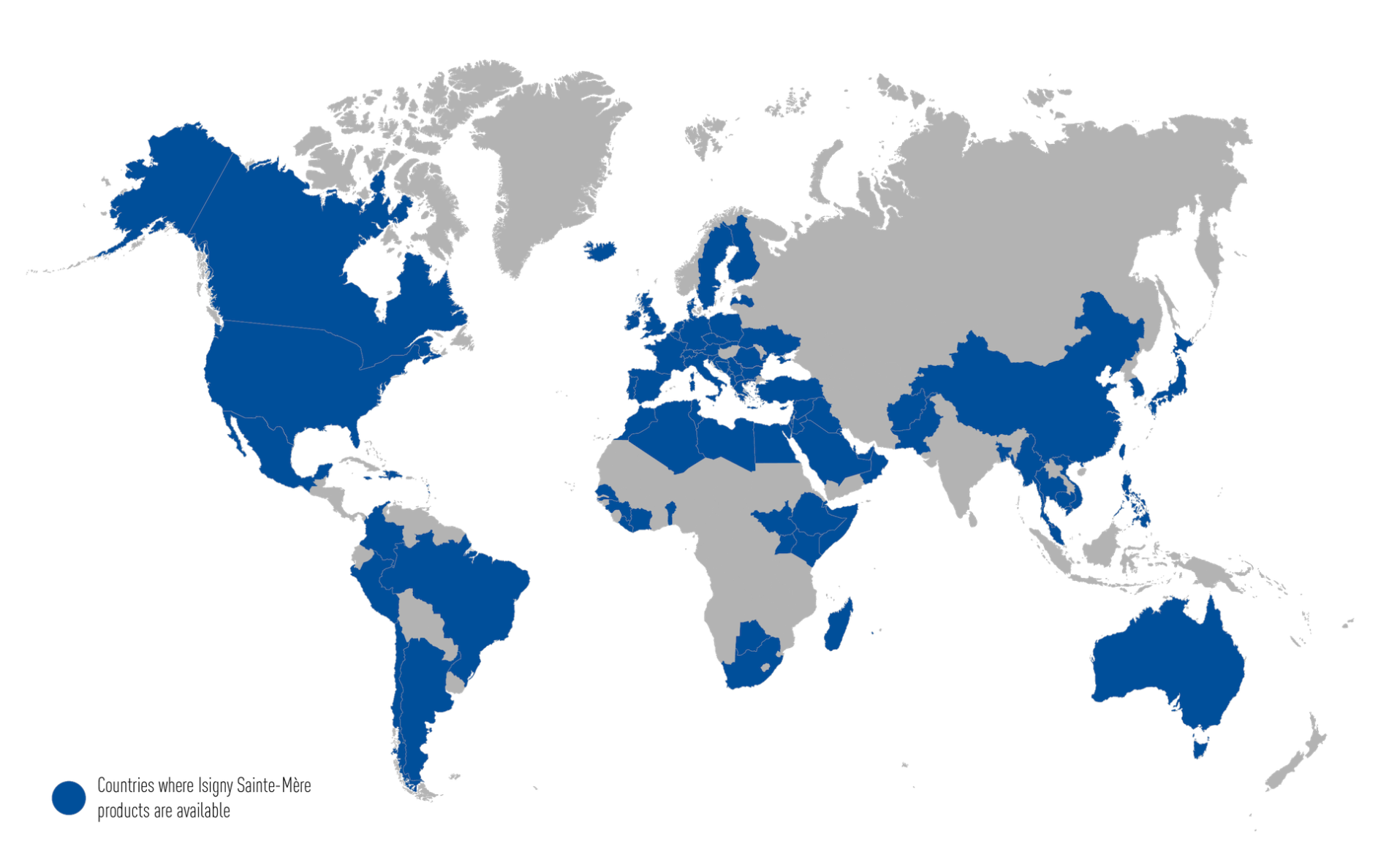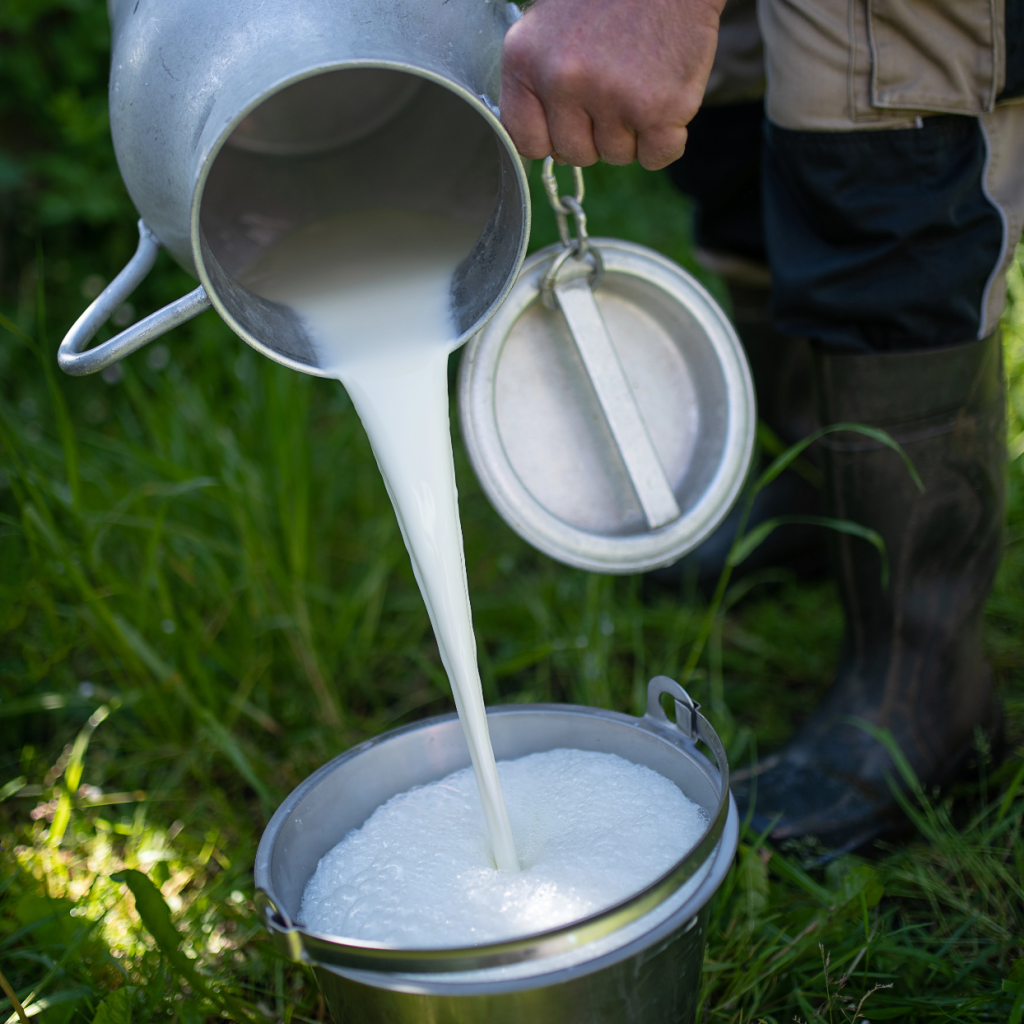 Where innovation meets tradition to win over the best tables in the world
For more than a century, the men and women of Isigny have been producing top quality products using know-how passed down over generations. As consumer demand has grown and food safety has advanced, our Cooperative has adapted without ever turning its back on its past heritage.
We have chosen a middle ground, between innovation and tradition, that allows us to guarantee the safety and quality of our products while offering customers the authenticity, know-how and, above all, the guarantee of local production within our terroir.
In terms of agriculture, we farm on a human scale, take care to respect our environment and our terroir, practice sustainable cattle farming, and work as much as possible with regional breeds of dairy cows.
On the industrial side, we are committed to guaranteeing the highest-quality products, complete food safety, and manufacturing processes that accurately reproduce those that first established the reputation of our products.
We are also committed to combining our traditional know-how with innovation. We continue to work for the reputation of this know-how, while adapting it to technology and our current customer demands so that our products can be found on the world's best tables.
Isigny Sainte-Mère products in the hands of the greatest chefs, bakers and pastry chefs, our most important ambassadors.
While travelling around the world, we are fortunate to be able to work with chefs, bakers, pastry chefs and culinary specialists who are looking to obtain our Isigny Sainte-Mère products for their dishes or to create exceptional recipes.
Thanks to them, we have a presence in luxury hotels and on the world's most beautiful tables, and it gives us great pride to be able to help these artisans of flavour by offering them an exceptional raw material from an unspoiled terroir so that they can serve the finest culinary creations.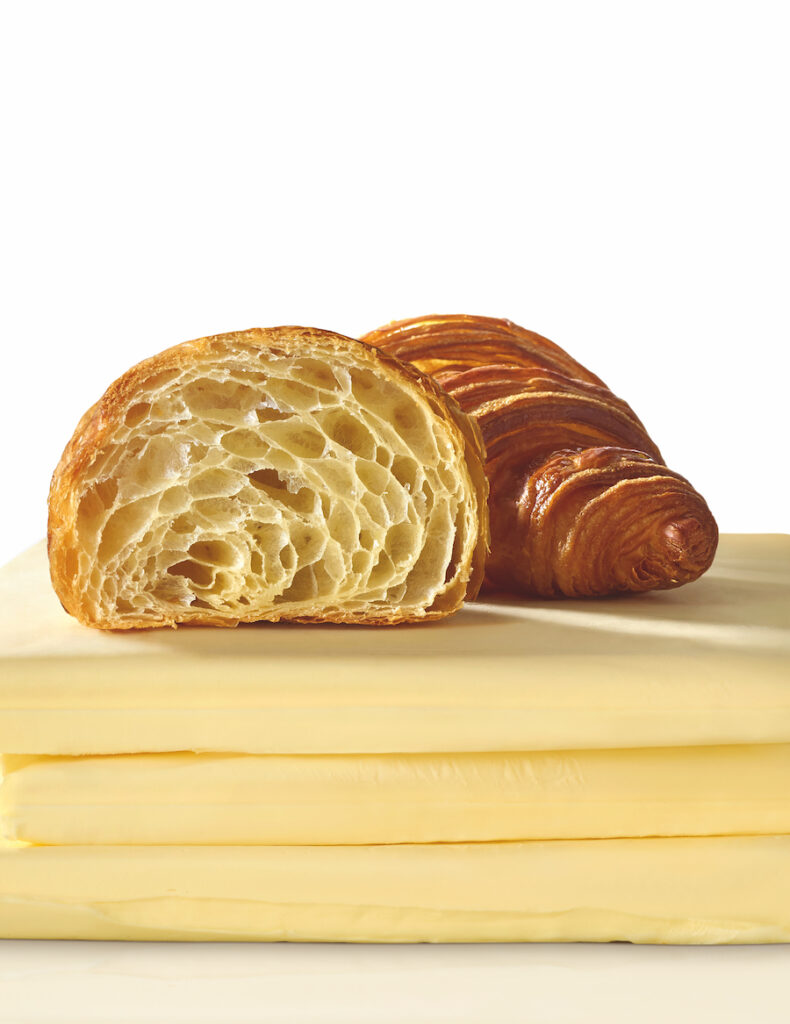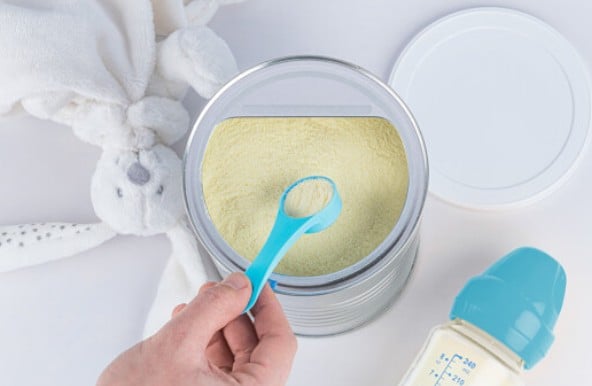 Milk powder, feeding babies around the world
We use the fat from the milk collected from 590 producers to make Butter, Cream and Cheese, and the milk skimmed in this way is then used to make premium milk powders, an area in which we have gained expertise over the decades.
This diversification offers the possibility of taking better advantage of our milk, and the infant milk powder business very quickly enabled us to place traceability, food safety and quality at the heart of our operations. This milk powder, designed primarily for infants, has been produced for our clients in France and worldwide since the 1960s.
Through our milk, recognised as an exceptional raw material, and our know-how in manufacturing infant milk powders, we are able to design high-quality products, thereby contributing to the healthy development of infants.
The teams dedicated to manufacturing infant milk powder strive to ensure the health and safety of the babies we feed every day. Full control over quality is the focus of our attention, with more than 3,000 checks performed on each batch, from the moment we receive ingredients and packaging right through to the dispatch of our finished products.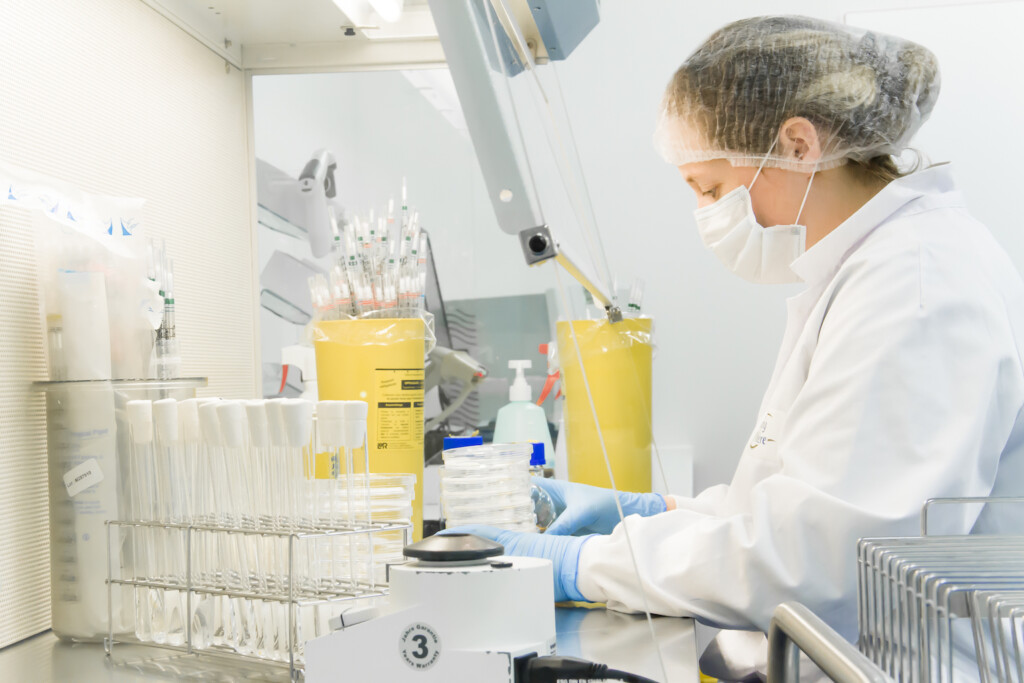 Thanks to our partners in more than 50 countries throughout the world, around 2.5 million babies are now fed every day with the infant milk powder we manufacture in the heart of our Isigny terroir.
For us, this trust is the reward for our commitment: stringent requirements and a high level of know-how for developing and manufacturing tailor-made infant milk powders, that are increasingly advanced and adapted to the very specific needs of infants.
Equipped with state-of-the-art equipment, we comply with standards that are closely aligned with those used in the manufacture of pharmaceutical products.
Quality, hygiene and food safety are our priorities and we guarantee full traceability, upstream and downstream, from the milk collected to each baby's bottle.