Caramels d'Isigny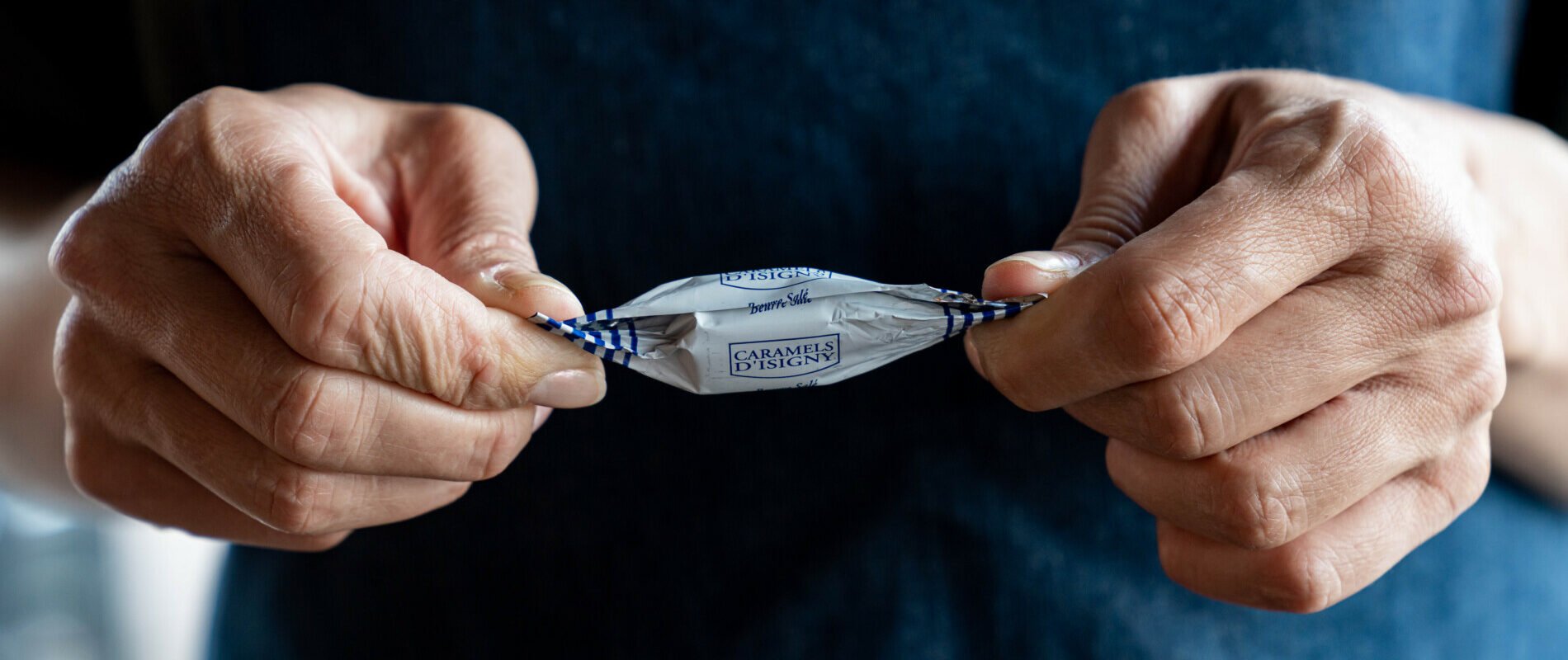 The origin of Caramels d'Isigny
The production of caramels began in Isigny-sur-Mer in the 1930s but, during the 1990s, the long-standing manufacturer "Dupont d'Isigny" moved to the Manche region, taking with it one of the jewels of the Isigny terroir.
Keen to make up for this departure, the Isigny-sur-Mer town council and the Isigny Sainte-Mère Dairy Cooperative called upon a former purchasing and logistics manager, and caramel expert, to create the company "Normandie Caramels" in April 1994. The artisanal production of caramel in Isigny-sur-Mer was thus relaunched.
At the time, through the production of premium caramels, the Cooperative saw a new opportunity to promote the high-quality image of Isigny's milk and therefore welcomed the company into its premises, until a new production site was constructed.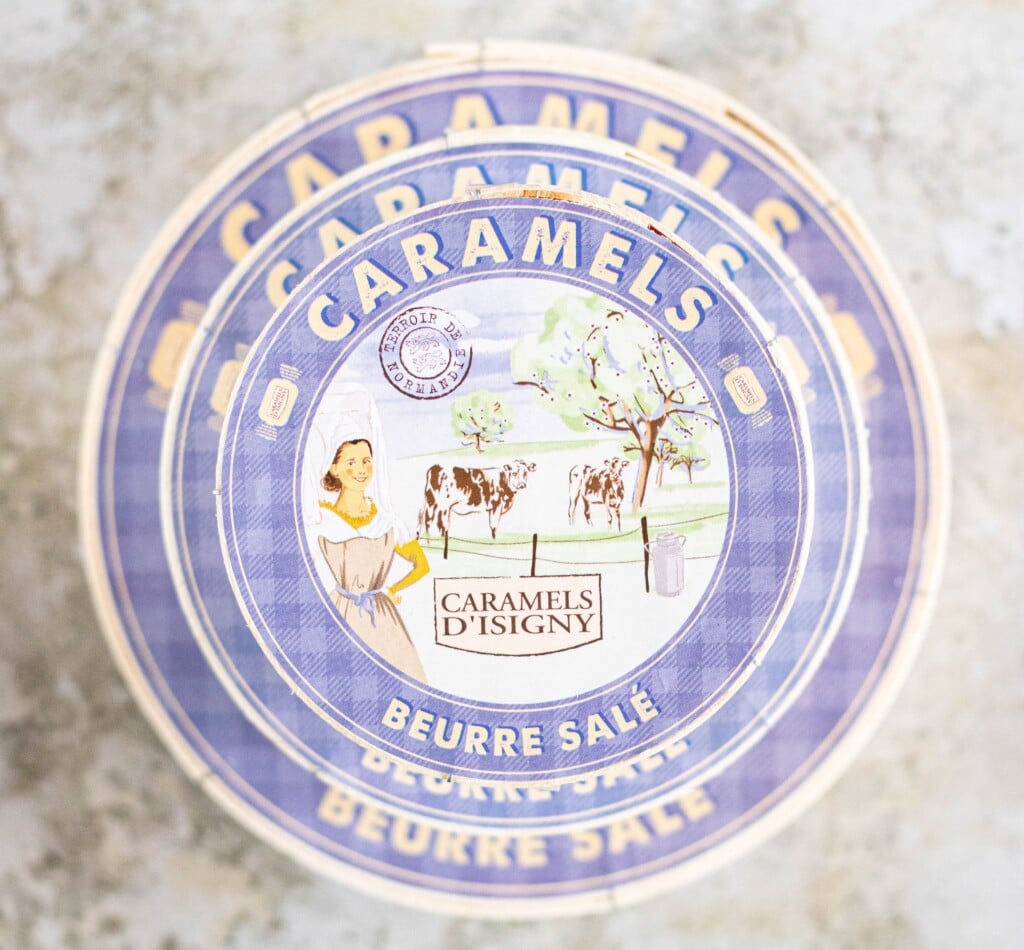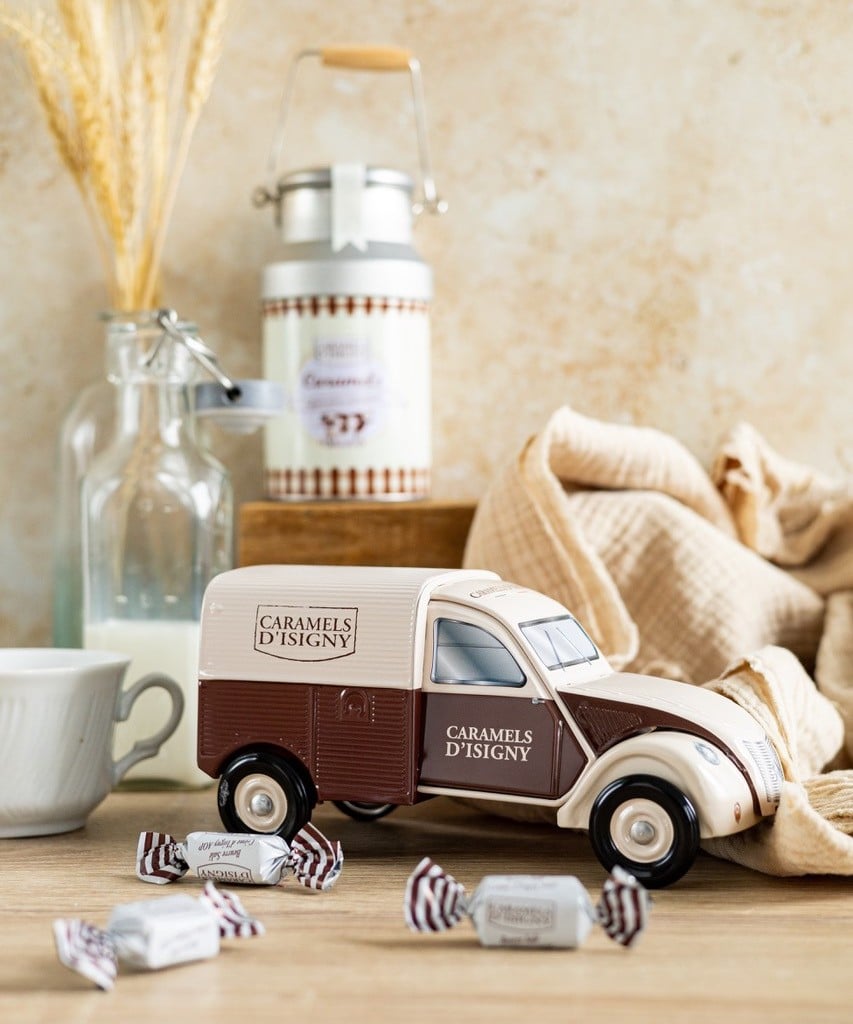 In the beginning, the company employed 5 people and 50 kg of caramel was produced every day.
In 2019, the Cooperative purchased Caramels d'Isigny to ensure its longevity and to develop the small company with its complementary know-how and values shared by the Cooperative.
The two long-term partners, both firmly attached to their terroir and traditions, became united.
Caramels d'Isigny: where rigour, precision and know-how come together…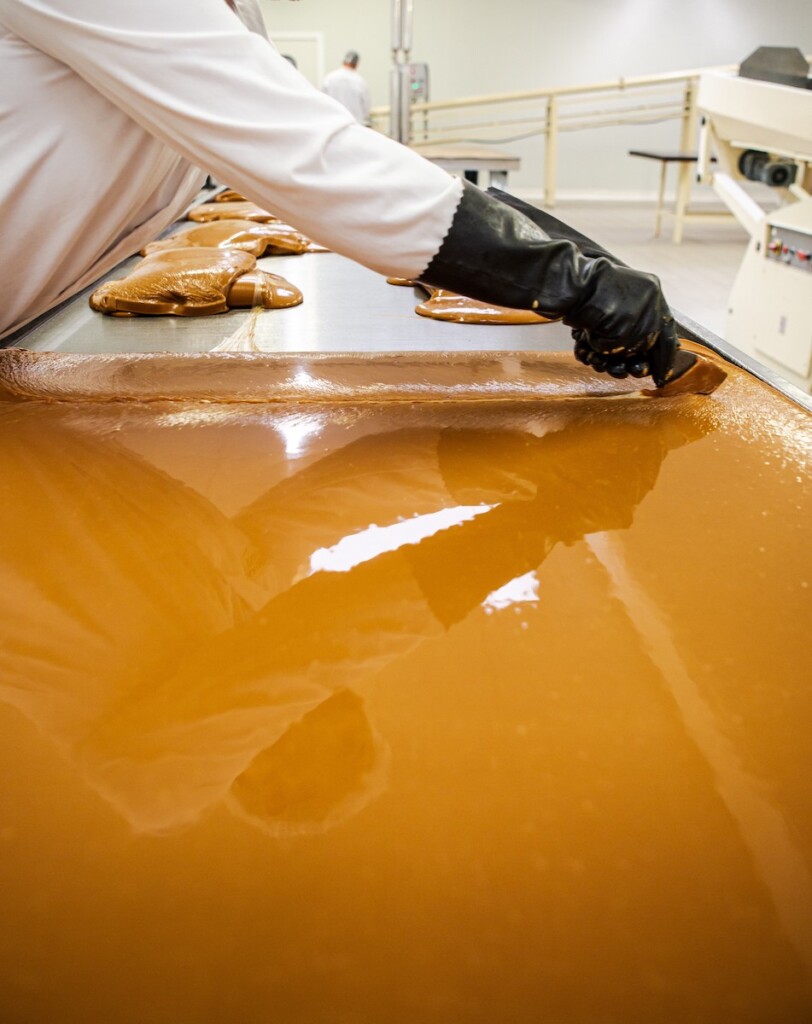 Caramel is a timeless confectionery. Its manufacture requires special attention and significant know-how, as well as very high quality ingredients to achieve the expected sweetness and flavours.
Caramels d'Isigny, which are local products of the terroir par excellence, are made with high-quality local raw materials: whole milk, Isigny PDO Butter and Isigny PDO Cream.
The caramel's unique flavour is a direct result of these premium ingredients. The proportions of milk, cream and butter as well as the cooking temperatures are what give them their texture and distinctive nature.
The Caramels d'Isigny recipe showcases quality ingredients and contains no gluten, gelatine, palm oil or artificial flavouring.
The caramels are made using artisanal methods. The production team is now made up of 10 employees who apply all their exceptional know-how to create these valued products.
Operations are primarily performed by hand, including mixing, cooking, cooling, shaping, and packaging, which roots Caramels d'Isigny in a long-standing tradition.
The production secrets of Caramels d'Isigny…
The first stage involves producing the paste at the right temperature in large traditional copper cookers where the carefully selected ingredients are generously mixed in: sugar, glucose syrup, milk, Isigny PDO Butter, and Isigny PDO cream. … The cooking process must be gentle in order to develop and preserve all the flavours of the caramel.
The mixture is then gradually heated to almost 120°C; the cooking point that will determine the caramel's unique colour.
It is only at the end of the cooking process, when all the ingredients have been combined and cooked to a beautiful golden colour, that natural flavourings may be added to preserve the flavour.
The final stage involves collecting the liquid caramel and spreading it out on a cold table in order to work it. This handling improves the caramel's elasticity. The caramel is cut and then constantly turned over, before finally going through the rolling machine for shaping. It goes through the extruder to give it its form, then onto the cutters and lastly to the twist wrapping machine.
A vast range of Caramels d'Isigny!
Caramels d'Isigny's range of soft caramels now stretches to 70 varieties.
In addition to the traditional vanilla, coffee, chocolate and hazelnut caramels, Caramels d'Isigny are available in all forms for connoisseurs and professionals.
Whether you are a cook, a pastry chef or an ice cream maker, or are simply looking for a caramel to enhance your recipes, the uses for our caramels are endless! Liquid Caramel, Spreadable Caramel Cream, Caramel Coulis, Light, Amber or Brown Caramel, Caramel Concentrate, Caramel Shards, Caramel Powder, and more.
Find out about the many possible uses here!
Caramel toffees
Available as wrapped sweets or for cooking, foodies can choose between soft, slightly sticky, or melt-in-the-mouth caramels which do not stick to the teeth!
The company produces caramels with French regional specialities: apple, calvados, mirabelle plum from Lorraine, walnuts from Périgord… Not forgetting the ever-popular salted butter caramel!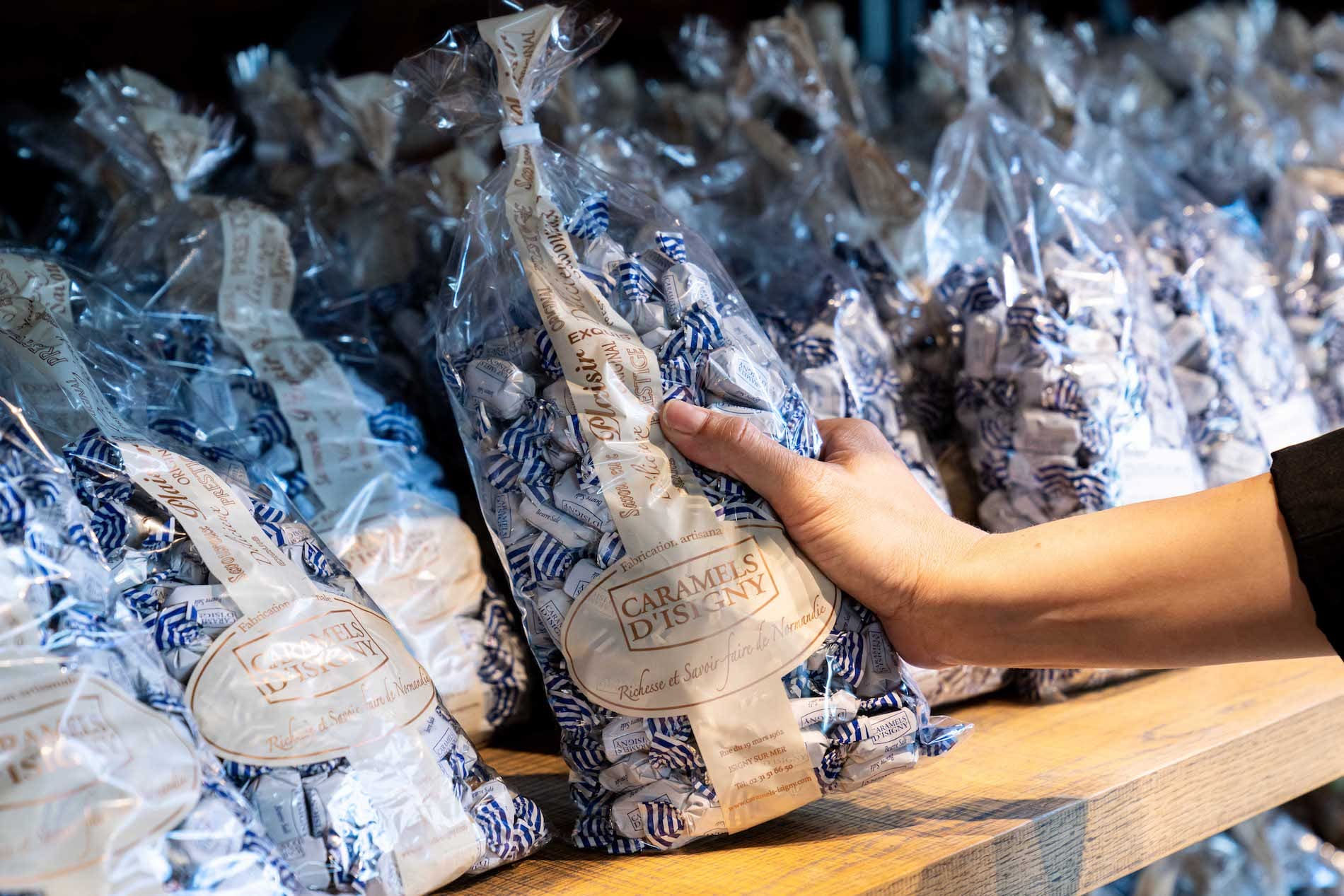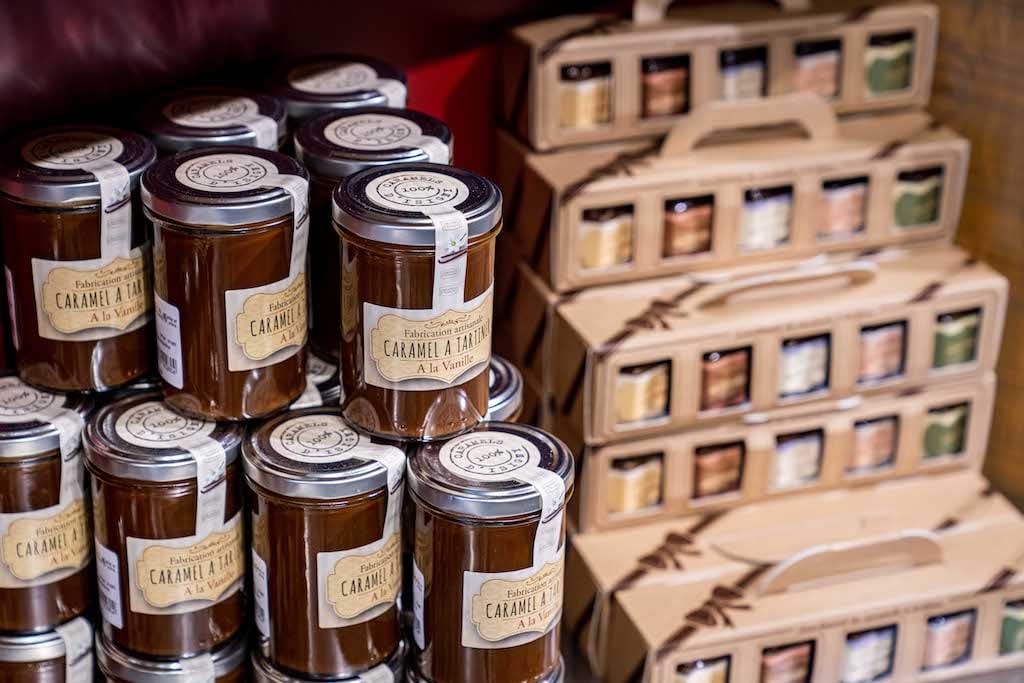 Caramel creams
The creamy spread from Normandy!
Caramel creams are perfect for spreading on pancakes, waffles or on a slice of brioche, or for adding to ice cream.
They are available in 5 flavours: vanilla, chocolate, calvados, hazelnut and salted butter.
Liquids caramels
Caramel coulis can be used as a topping and for decorating ice creams, floating island desserts and much more… They are available in various flavour intensities:
Caramel coulis: runnier than the caramel creams, it is excellent on pancakes and ice cream.
Light caramel: runny golden caramel, ideal for floating island desserts, flans, rice pudding, etc.
The range of liquid caramels is completed by professional products such as amber caramel, brown caramel or caramel concentrate used as natural flavouring and colouring in various recipes.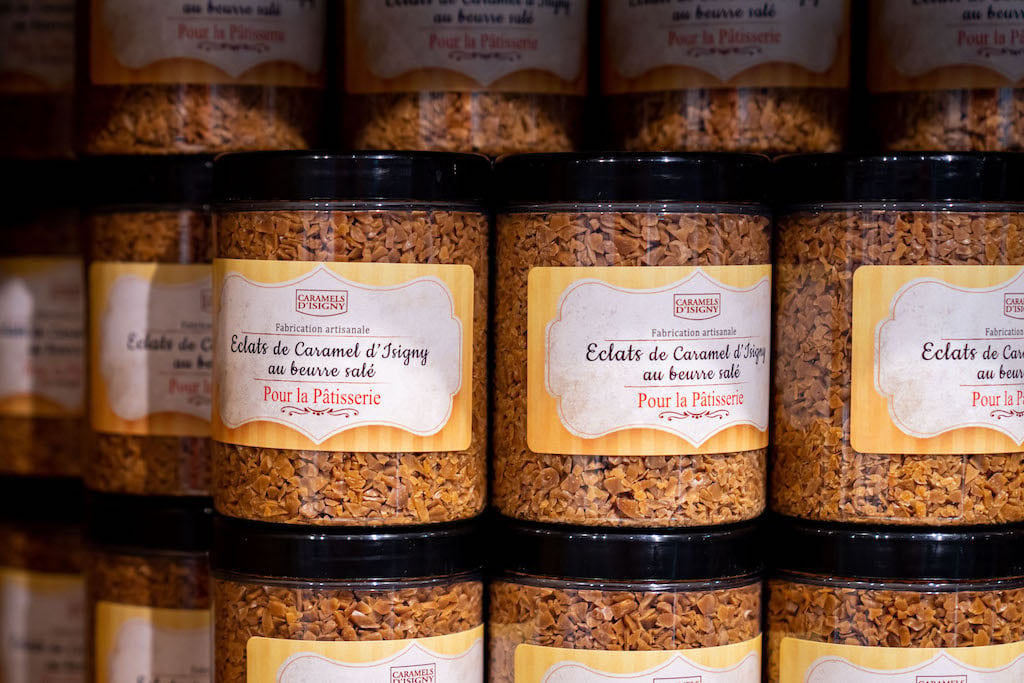 Caramel shards
In order to meet the demands of professional customers, our caramel is also available in hard and crushed versions, in the form of shards or powder. This caramel, for use as an ingredient for professional pastry chefs, chocolate makers, biscuit manufacturers, ice cream makers etc. represents 34% of production.
The caramel shards are also available in small containers for private customers.
These shards give dry biscuits (cookies etc.) a distinctive flavour and crunch, and can also be incorporated into a ganache or sprinkled on a dessert (ice cream, fromage frais etc.)
Popcorn
The popcorn is generously coated with real butter caramel (20% of the ingredients).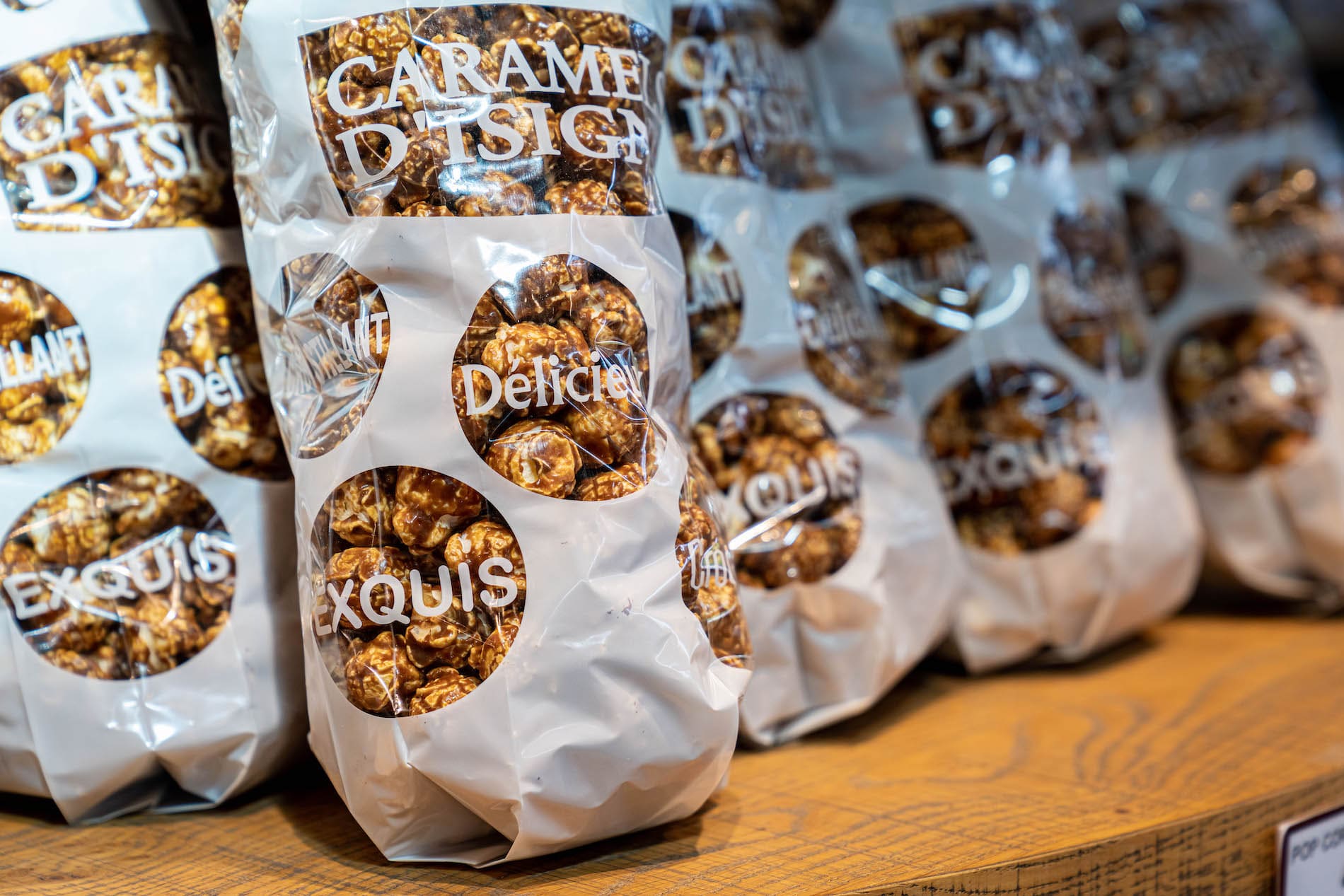 The Caramels d'Isigny visitor area
Caramels d'Isigny opens its doors all year round, so that children and adults can discover how they are made! This space dedicated to our caramels has an educational area and you will be able to learn all about the riches of the Isigny terroir.
The visitor area offers a unique experience discovering our region and its assets, the know-how and history of the Isigny Sainte-Mère Cooperative, as well as its dairy specialities… You can also witness our know-how by closely observing the caramels being manufactured by our teams, and see all the ingredients and machines required for manufacturing Caramel d'Isigny.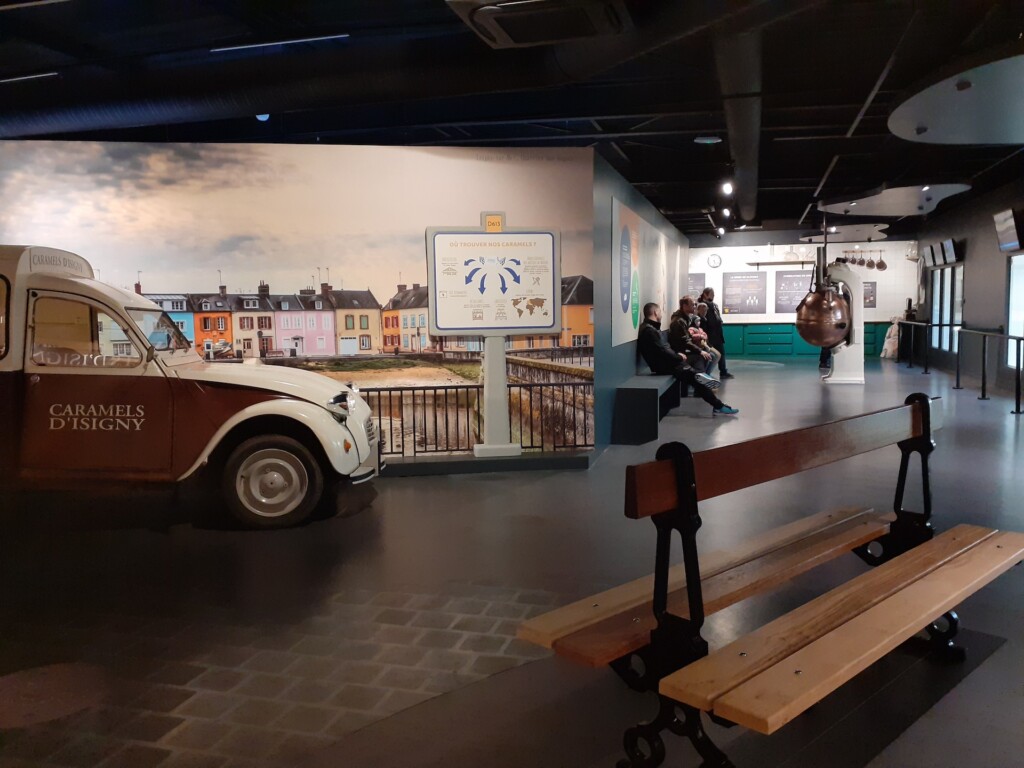 Les Halles d'Isigny: A gourmet's palace!
Over 300 m² in size, Les Halles d'Isigny is a paradise for the taste buds. Much more than a retail outlet, Les Halles d'Isigny has a boutique feel and offers a wide range of treats from Normandy and other regions.
In addition to our Caramels in all their forms, you will find a selection of other products from Normandy: cheeses, cream, sweet and savoury foods, chocolates, biscuits as well as a section for books, household linen and tableware.
If you are lucky enough to be visiting Les Halles d'Isigny between April and October, you will also have the opportunity to try the ever-popular ice creams made with Isigny Sainte-Mère cream.
The Caramels d'Isigny visitor area and Les Halles d'Isigny are located in Isigny-sur-Mer, on the road between Caen and Cherbourg.