Isigny Sainte-Mère milk powder… Feeding babies around the world
For more than a century, the men and women of Isigny Sainte-Mère have been producing top quality products using know-how passed down over generations. The infant milk powder business very quickly enabled us to place traceability, food safety and quality at the heart of our operations.
This milk powder, designed primarily for infants, has been produced for our clients in France and worldwide since 1959. Thanks to the richness of our milk, which is recognised as being an exceptional raw material, and to the precision know-how of our teams, we are able to develop high-quality infant milk powders. They contain all the nutrients required for the healthy development of young babies.
Milk powder, and infant milk powder in particular, were a natural choice, being so closely linked to the know-how of our Isigny Sainte-Mère Cooperative: a very high-quality raw material and an innate sense of innovation.
This business now represents more than 60% of our turnover and is more important than ever.
From milk to milk powder
After the Second World War, milk powder, and infant milk powder in particular, became a natural choice, given that it is the quintessence of Isigny Sainte-Mère know-how. For many years, this business has involved putting to good use the milk skimmed to produce Butter, Cream and Cheeses, and which is inherently rich in nutrients, in order for it to be transformed into milk powder by teams of specialists.
Today, the infant milk powder business is more important than ever for our Cooperative.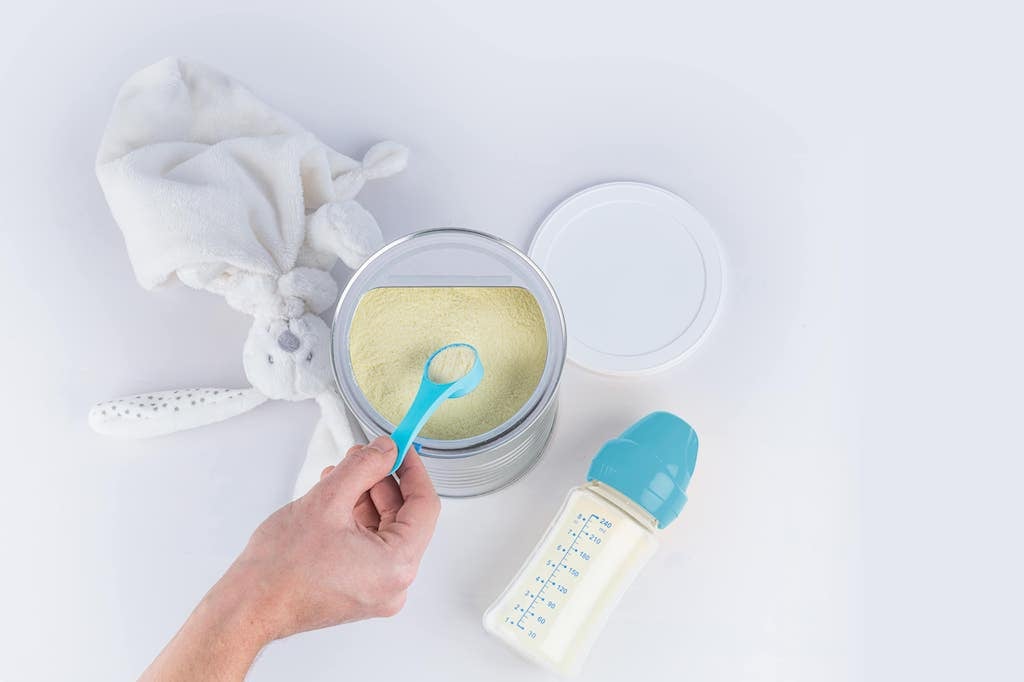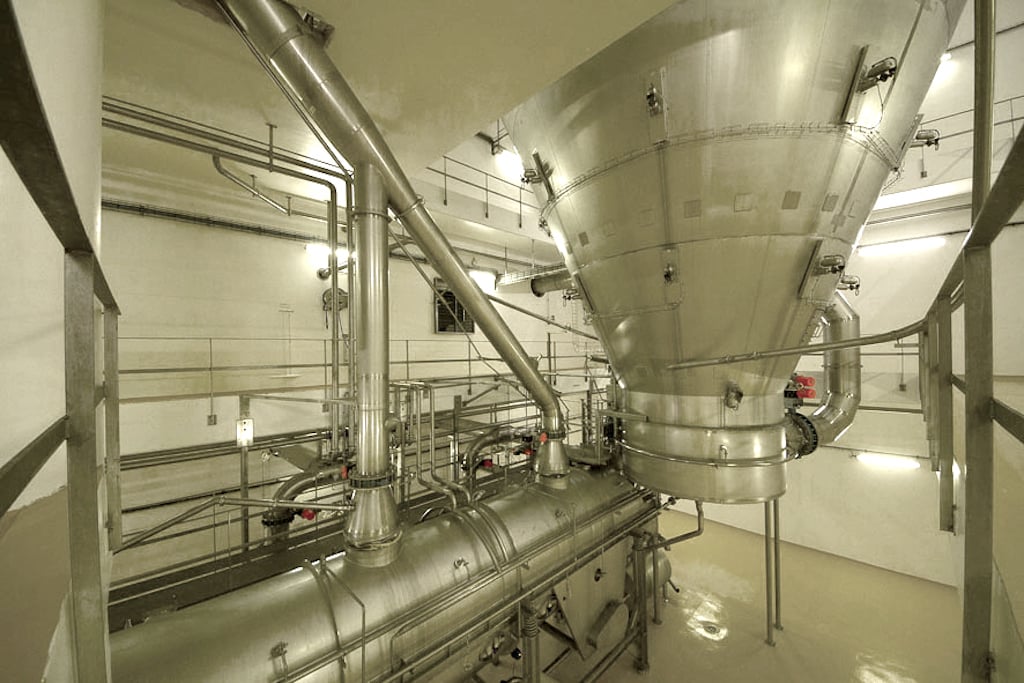 Our three independent production facilities offer the largest infant milk powder manufacturing capacity per year in Europe in the B-to-B segment.
While taking on technological challenges to guarantee high-quality and food safety, the Cooperative meets the specific demands of its partners to produce infant milk powders, infant formula (stage 1), follow-on formula (stage 2), growing-up formula, milks for pregnant women and elderly people, and therapeutic infant milks (anti-reflux, anti-colic, hypoallergenic, lactose-free, organic milks, etc.).
High standards and quality at the heart of our production: More than 3,000 checks
The teams dedicated to infant milk powder strive to ensure the health and safety of the babies we feed every day. Full control over quality is the focus of our attention, with more than 3,000 checks performed on each batch of infant milk powder produced; from the moment we receive ingredients and packaging and the collection of milk from farms, right through to the dispatch of our finished products around the world.
With a new ultra-modern testing laboratory, our Cooperative rigorously and thoroughly checks all the production stages to guarantee the product's complete safety. With our state-of-the-art equipment, we guarantee a high level of quality and safety for the products manufactured within our Cooperative.
1 million tests per year in our « COFRAC » accredited laboratory
More than 1 million tests are performed each year in our infant milk powder laboratory.
Our laboratory has been awarded the prestigious ISO 17025 COFRAC accreditation (COFRAC test no.1-6898 (scope available at www.cofrac.fr)). This standard, which is rarely awarded to an infant milk testing laboratory, is issued by COFRAC (the French Accreditation Committee), the only reference body for laboratory accreditation. It validates and guarantees our laboratory's high level of technical competence.
Thanks to our key partners in more than 50 countries throughout the world, around 2.5 million babies are now fed every day with the infant milk powder we manufacture at our site in Isigny-sur-Mer.
For us, this trust is the reward for our commitment: stringent requirements and a high level of know-how that we have developed to manufacture tailor-made infant milk powders, that are increasingly technical and adapted to the very specific needs of infants.
Because breast milk is the most suitable food for the specific needs of infants, the World Health Organization (WHO) recommends exclusive breastfeeding for the first 6 months of a baby's life so that they benefit from the nutrients that are essential for their health and development.
We recommend that the use of infant milks and the decision to start weaning should only be made on the advice of a doctor, or a professional responsible for maternal and child health care, based on the infant's specific needs.
A NEW infant milk powder testing laboratory
In order to keep up with the increase in production while strengthening our quality standards, a new 2400 m² testing laboratory was opened in early 2019.
It is completely dedicated to checking our milk powders, and employs more than 100 people (qualified technicians, engineers, microbiologists and doctors) who perform 1 million checks each year, 250 tests on average for every batch of infant milk powder produced.
Our technicians' know-how combined with the certifications obtained, enable us to master the AOAC, ISO and GB analytical methods that we use in the best interests of our clients.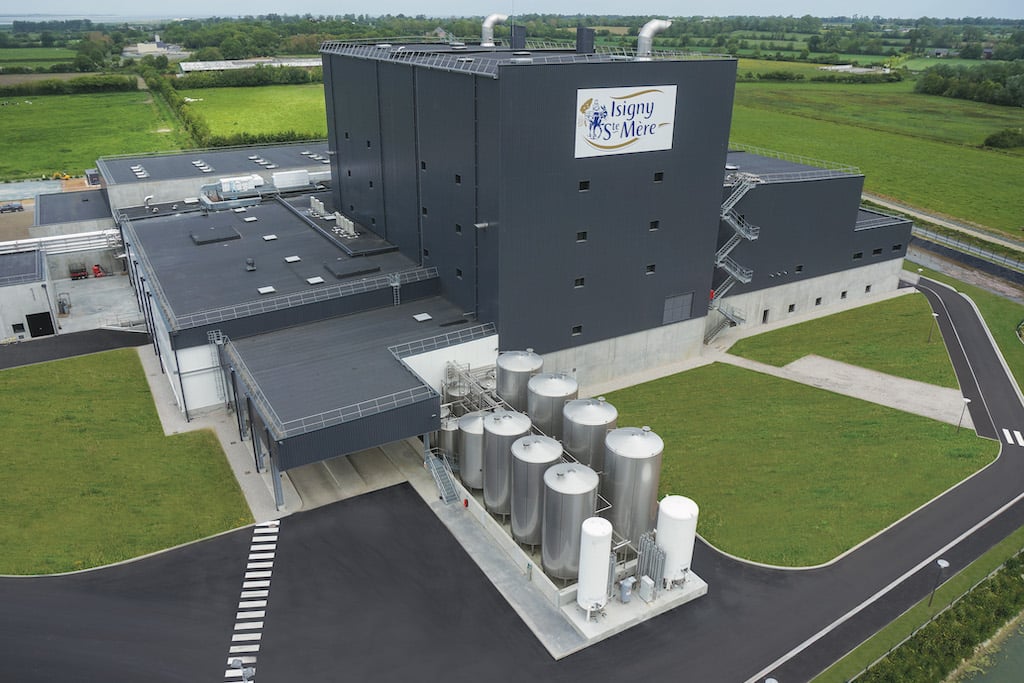 In 2021, this infant milk powder testing laboratory obtained test no.1-6898 COFRAC accreditation (scope available at www.cofrac.fr).
It guarantees the laboratory's high level of technical competence and, above all, the reliability of its test results.
This confirms very high standards in terms of product quality, hygiene, food safety and traceability.
With our state-of-the-art equipment, we comply with standards that are closely aligned with those used in the manufacture of pharmaceutical products.
Quality, hygiene and food safety are our priorities and we guarantee full traceability, upstream and downstream, from the milk collected to each baby's bottle.
High-tech equipment to ensure optimal safety and traceability
In order to ensure the complete safety of our infant milk powders, we perform thorough inspections on over 300 items of equipment that we possess.
To achieve this, our teams work with experts and international researchers to implement inspection plans that are designed to meet the most stringent standards in force. Our clear goal is to maintain increasingly high standards in terms of quality, hygiene, health and safety, and traceability.
Infant milk powder manufacturing is very demanding and requires high-tech production equipment, in order to comply with French and international standards.
In order to meet the growing demand from our partners and to constantly adapt to new regulatory requirements, Isigny Sainte-Mère is continuously optimising its dedicated infant milk production facilities.
This high level of rigour, combined with the know-how of our experts, enables us to offer our clients highly technical and tailor-made products.
In order to remain at the forefront of the market in terms of technology and quality, we have 7 dedicated infant milk powder drying towers and 3 ultra-modern packing lines to meet all needs (bulk bags, sacks, sachets, metal tins of various sizes).
Our production process
To make our infant milk powder, we have set up a production process that is fully integrated and controlled by our Cooperative. From collecting the milk from our producers to dispatching the finished products, the milk powder follows a complex production process. It is stringently tested and tracked at all stages: transport, processing and packaging, to ensure full control over the quality of our products.
We opt for a unique wet mix production process which involves mixing the milk and additional ingredients during the wet phase. This mixture is then sent to our MSD (Multi Stage Dryer) towers. The dried milk powder is finally packaged in a clean room under a modified atmosphere (inerting).
This fully atomised process is the safest on the market and the most effective for obtaining a homogeneous milk powder that will not leave residue in the bottle.
Stringent sourcing
The origin of ingredients used in our formulas is strictly controlled:
Every ingredient used (vegetable oils, demineralised whey, minerals and other nutrients) complies with strict internal specifications which guarantee their origin and conformity.
Suppliers are regularly audited in order to ensure consistently perfect product quality.
The ingredients are checked when they are received by our in-house laboratory which uses standardised methods, including AOAC, ISO and GB.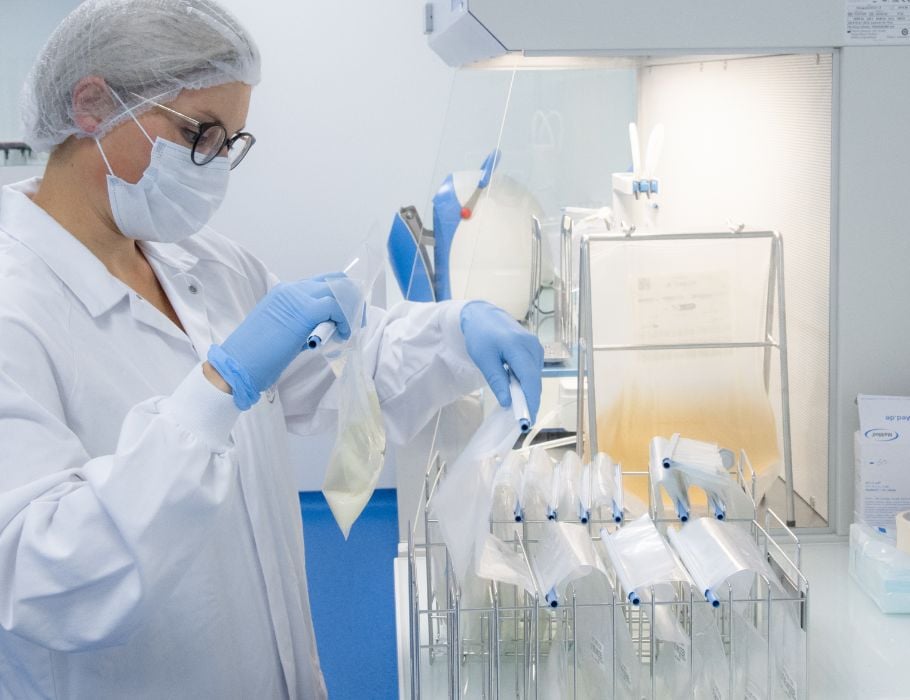 Ongoing regulatory monitoring
We act in full accordance with European legislation (as per the delegated regulation (EU) 2016/127) and the legislation of the countries where the products we manufacture are sold.
Our Cooperative combines compliance with legislative frameworks and respect for control systems and Research and Development with the experience and specific skills of our teams. We have in-depth knowledge of the infant milk powder market and anticipate changes in production methods in order to fully meet the nutritional needs of infants, young children and specific populations.
Certifications and labels to ensure quality
We are truly committed to following an environmentally friendly approach, using milk from our producers that is locally produced with full consideration for sustainable development. Our farmers, who all have the Agri Confiance® certification, are passionate about protecting our heritage by looking after an area with a healthy and sustainable biotope for future generations.
Intense research and development
The formulations for our products are constantly being optimised by a team of dedicated engineers and nutrition experts.
These teams work closely with all our clients and partners in order to offer them unique formulas that are perfectly suited to their needs. Our experts also work with researchers, paediatricians and specialists in infant nutrition in order to create products that meet both the requirements of our clients as well as the needs of infants worldwide.
Each type of milk powder produced by Isigny Sainte-Mère is therefore unique and custom designed to suit the requests of our clients.