Men and women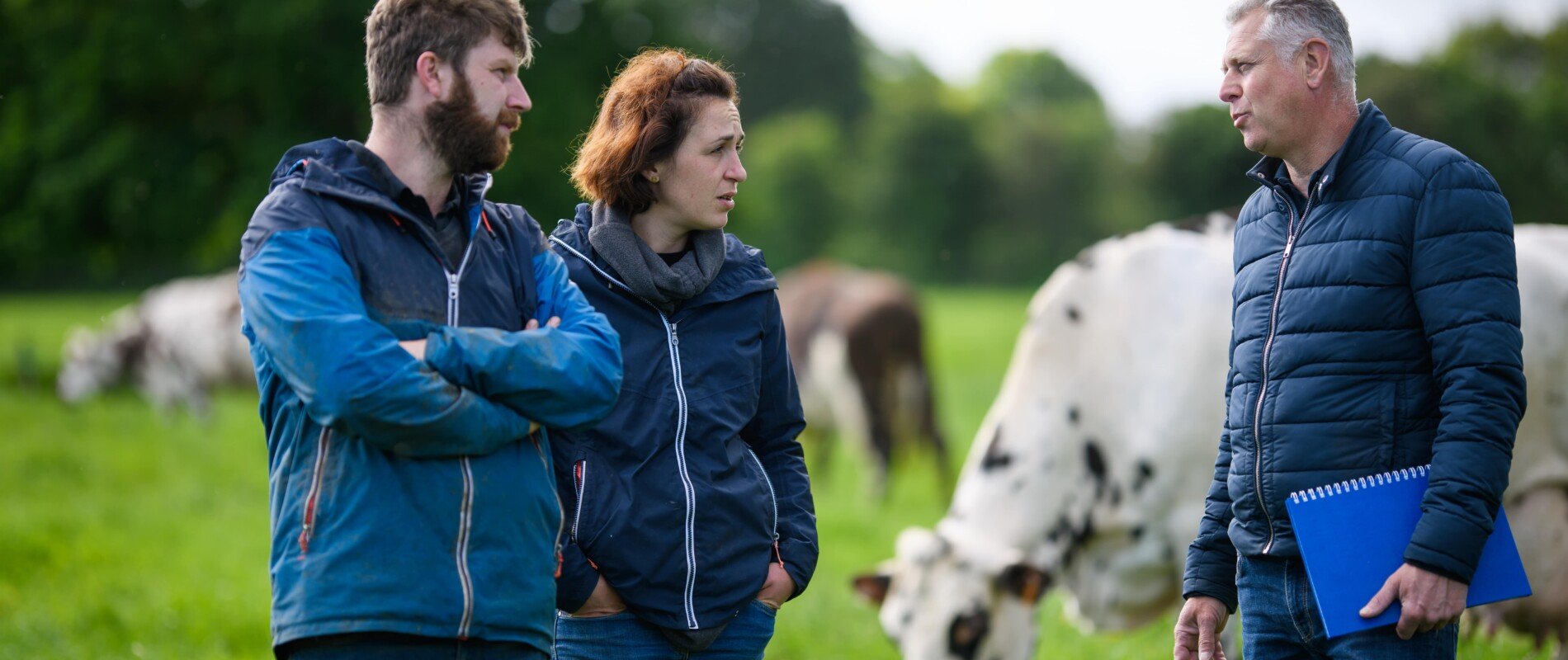 Let's talk about our traditional know-how by going back to the 17th century and following a "triolette", a young woman responsible for milking cows.
At the time, milking was primarily a woman's job, and every day (at least twice a day, morning and evening), at fixed times, in all seasons, these young women put on their clogs and went to the fields two or three times a day to milk the cows. They milked the cows inside buildings.
Our triolettes collected their milk in copper milk cans which they carried on donkeys to the surrounding farms. Once this was done, they had to remove the impurities from the milk by filtering it through a clean cloth and then pour it into stoneware pots to separate the cream from the other constituents.
In order to make their prized blocks of Isigny butter which were sold at the market, the farmers churned the butter every two or three days. The butter was then washed with water from the well, which had to be of the highest quality, and then kneaded and shaped.
These blocks were then carefully placed in a cheesecloth and put in wicker baskets lined with fresh straw.
Traditional Normandy know-how in dairy production
Although milk collection has gradually been modernised, at Isigny Sainte-Mère we have maintained the high standards of former times, the quality that built and continues to build our Cooperative's reputation, here and throughout the world.
Today, techniques and innovations allow us to meet growing consumer demand, but the production of our butter, cream and cheeses is still based on very long-standing practices.
Know-how in high-end traditional products
Our milk is collected every 48 hours to ensure freshness. The fat is used for the traditional manufacturing of Butter (unsalted butter, salted butter, churned butter, butter sheets for making pastry), Cream, Cheeses (Camembert, Pont l'Évêque, Mimolette, Brie, and other pressed cheeses), and Fromage Frais.
The skimmed milk is used to produce infant milk powder, which means that all constituents of the milk can be used. This milk powder meets high standards of safety, quality and traceability to offer a broad range of infant formulas produced according to manufacturing contracts for infants around the world.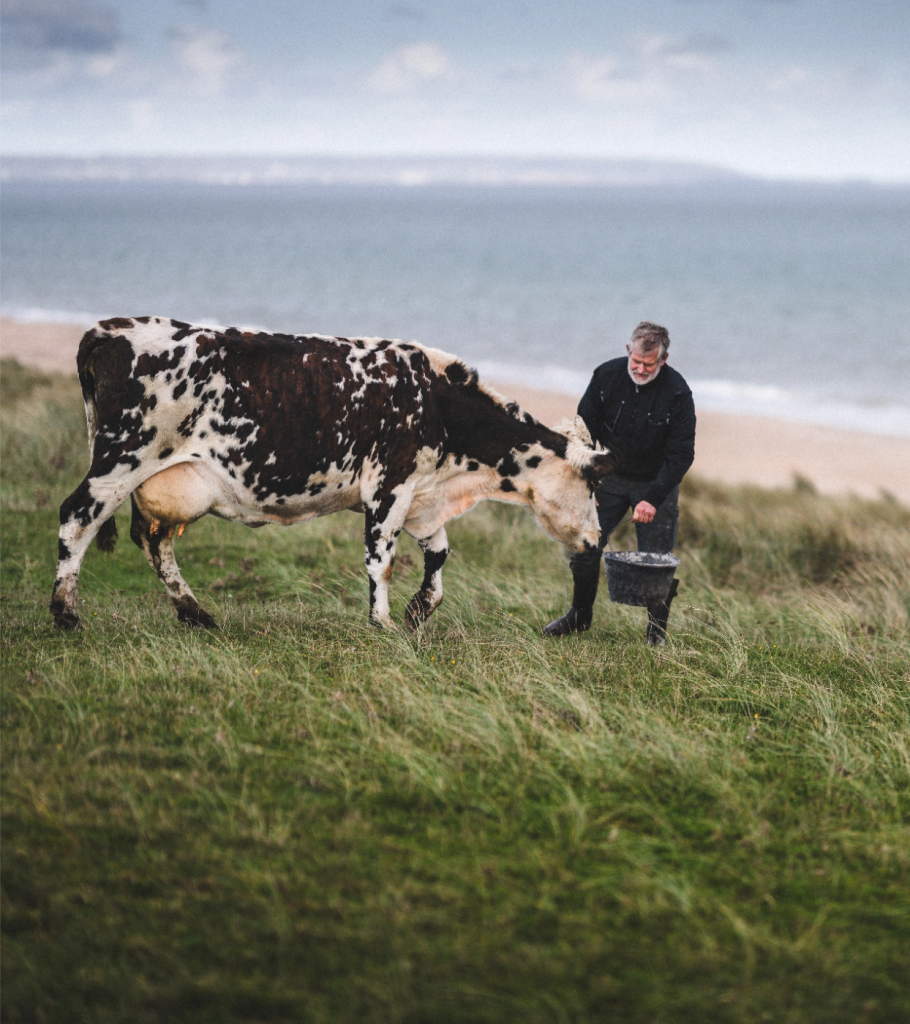 Upgrading production without sacrificing know-how: manual processes reproduced and modernised
Our Cooperative has always successfully adapted to technological developments without ever abandoning its past and its heritage
In the early 1960s, farms began to be equipped with milking parlours to guarantee food safety for consumers, and to facilitate the work of farmers by relieving them of demanding tasks.
Since the 2000s, farms have been gradually installing automated milking parlours (15% of farms currently equipped), in response to the increase in herd size.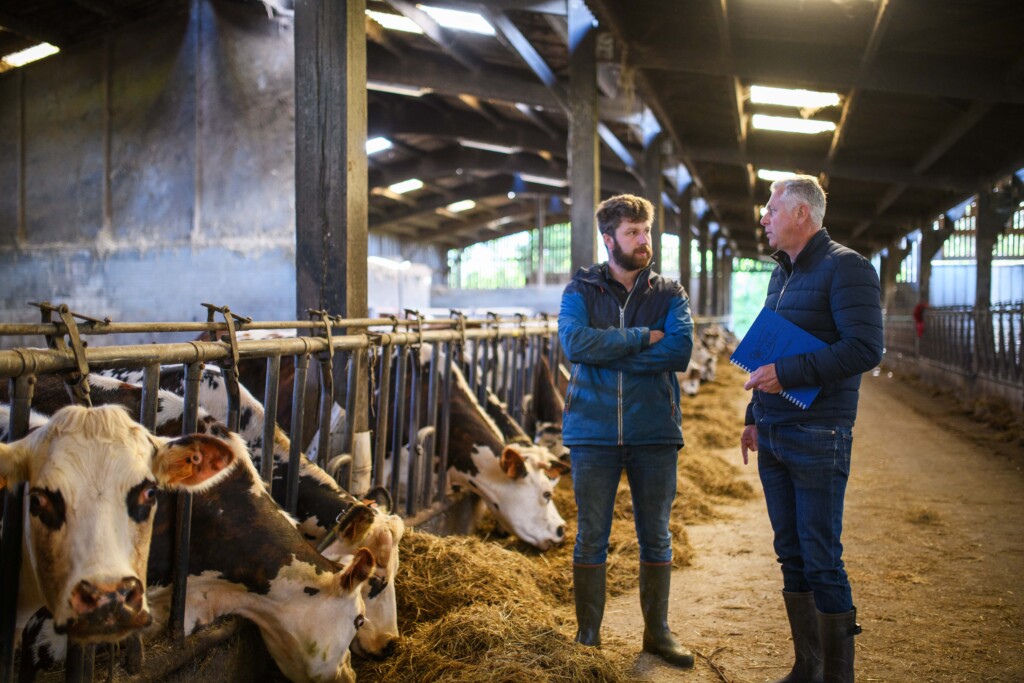 This is a significant investment for the producers, but one that helps them to improve their working conditions by eliminating the physical exertion of milking in the morning and evening. They can benefit from more flexible working hours, which frees up time and contributes to improved well-being.
The milk is now collected every 48 hours by insulated tankers. It is immediately analysed when it arrives at the Cooperative to confirm food safety compliance and its fat and protein content, which will be used to determine the price paid to producers.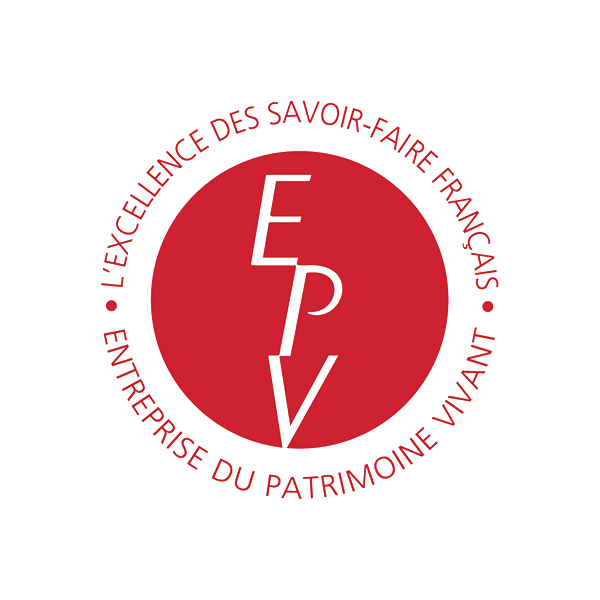 Our know-how has been recognised by the Entreprise du Patrimoine Vivant (EPV – Living Heritage Company) label, which currently applies to 1,300 French companies. The Ministry of Industry awarded us the label in 2015 (with re-certification for a second 5-year period on 26 February 2022).
This label recognises the unique and preserved know-how that our Cooperative possesses, and which is now recognised as an integral part of French heritage.
Isigny Sainte-Mère's Women, Men and Farms
Our Cooperative is situated within an exceptional terroir, but the products obtained from it would be nothing without the milk producers and all the employees who are involved in preserving know-how that has, in some cases, been passed down through several generations.
These men and women are committed to producing and processing products that are now offered worldwide. When referring to this renowned know-how, we are talking about passion, commitment, rigour and involvement. These are more than just words, they are values that at Isigny Sainte-Mère we are determined to protect!
There are often several generations of producers behind our Cooperative who, decade after decade, have delivered their milk to the Cooperative, and we have supported them through societal and environmental changes. The same applies to our employees, sometimes with entire families working in our cooperative.
In one way or another, they are all connected to this history of Normandy dairy production and to this heritage which, even today, inspires a wave of passion in our master cheesemakers, cream makers and butter makers.
Producers, farmers, cheesemakers and employees alike, everyone has great respect for our exceptional raw material: Isigny milk.
Know-how is about passion
Despite the harsh daily working conditions of milk producers, and the self-sacrifice required by this profession, we strive to ensure the best conditions and pay to reward this vital work.
According to a survey of our milk producers conducted in 2021 (survey of milk producers – summer 2021):
of our farmers own their farms
of our producers love their profession and feel fulfilled
are proud of their profession
of farms plan to maintain or increase their production within 5 years
Know-how is about passing it on
The Cooperative's producers have always worked on our terroir, and the farms and dairy production practices have been passed down through the generations, like a genuine dairy heritage.
Know-how is about accessibility
Needless to say, Isigny Sainte-Mère's know-how depends on the men and women who work in the Cooperative, either directly or indirectly, and who are involved in transforming the milk into exceptional products. But this know-how would be nothing without the teams who help make our products accessible to cheesemakers, supermarkets, chefs, pastry chefs, etc. throughout France and around the world.
Know-how is about precision
Every day, more than 1,000 men and women carry out precise operations and closely monitor our products to ensure that they are of the highest quality. Technicians, sales representatives, line operators, and electrical mechanics alike, these men and women all have a major role to play on a daily basis in order to offer high-quality Isigny products from Normandy, faithfully following the Isigny dairy tradition.
The environment in which they live, the marshes and the Normandy bocage wooded farmland, allows them to benefit from a natural diet in the heart of an unspoiled terroir. The grasslands surrounded by bocage hedgerows have a direct positive effect on their welfare, following the changing of the seasons.
We are committed to complying with best practice to ensure that the cows have a healthy environment, and receive proper treatment and care in order to provide the best milk. We uphold the French Charter of Good Agricultural Practices and the "Boviwell" system in particular, based on 5 key commitments for the welfare of cows:
Our cows have access to sufficient drinking water, as well as a balanced diet ensuring good health.
The livestock buildings are bright with comfortable living areas of sufficient size.
The fields are surrounded by hedgerows which provide shelter from extreme weather events.
We look out for any injuries and provide the appropriate treatments.
Our cows live among their herd and can express their natural behaviour.
Our farming conditions and practices do not result in suffering, a veterinary protocol for pain management is applied if necessary.
Our cows live outside for a large part of the year in an environment that is conducive to milk production. Our human-scale farms serve as a sustainable model with a close relationship between producers and their herds.
The producers know all of their cows, some even to the point of giving them names, and pay close attention to any change in behaviour and take action immediately if care is required. This day-to-day proximity guarantees the production of high-quality milk, while being mindful of and attentive to the welfare of Isigny cows.