Camembert
Normandy Camembert takes its name from the village located some thirty kilometres south of Lisieux.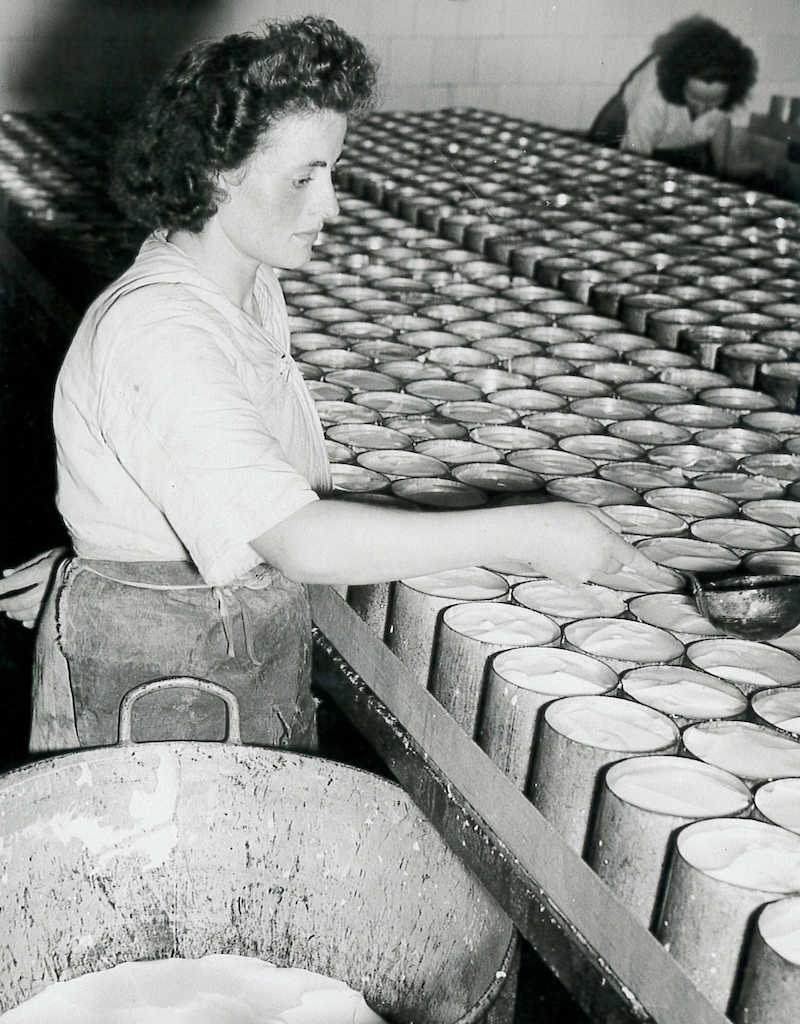 In 1702, in his "Dictionnaire Universel Géographique et Historique", published in 1708, Thomas Corneille described the big market held in Vimoutiers every Monday, where people brought excellent cheeses from the Camembert region.
At the time, "Camembert" was one of many cheeses from the Pays d'Auge, made in the 18th century by farmers and sold "en blanc" to ripeners.
According to a local legend, Camembert cheese was first produced in 1791 at the height of the French Revolution, from a transfer of skills in Vimoutiers in the south of the Pays d'Auge, between the Abbot Charles-Jean Bonvoust, a refractory priest, and his protector, Marie Harel, who was hiding him on her farm.
Camembert became famous in 1863, when Napoleon III inaugurated the railway line between Paris and Granville.
During a stopover in Surdon, Marie Harel's grandson gave him a taste of this precious cheese. It is said that the Emperor asked her grandson for the name of the cheese, and when he didn't know, the Emperor suggested the name Camembert. He then regularly ordered Camembert to serve at the Tuileries Palace.
In 1914, during the First World War, Camembert cheese was part of the wartime ration of French soldiers who ate it on the front line. All the cheese dairies in Normandy prospered by making this cheese, which quickly became a symbol of the nation.
In 1932, the Isigny Cooperative began producing mould-ladled Camembert. The cheesemakers worked around large tables onto which iron moulds were placed, meticulously ladling out the precious curds from a typical Norman vat. The women then ripened and sorted the cheeses.
THE PRODUCTION SECRETS OF CAMEMBERT…
Our Camembert comes from the Normandy terroir, in the heart of the Cotentin and Bessin Marshes Regional Natural Park, and is made exclusively from the finest Normandy milk, which is exceptionally rich in fat, protein and vitamins.
We pay particular attention to each stage of production, to ensure that our Camembert cheeses are of impeccable consistency and quality.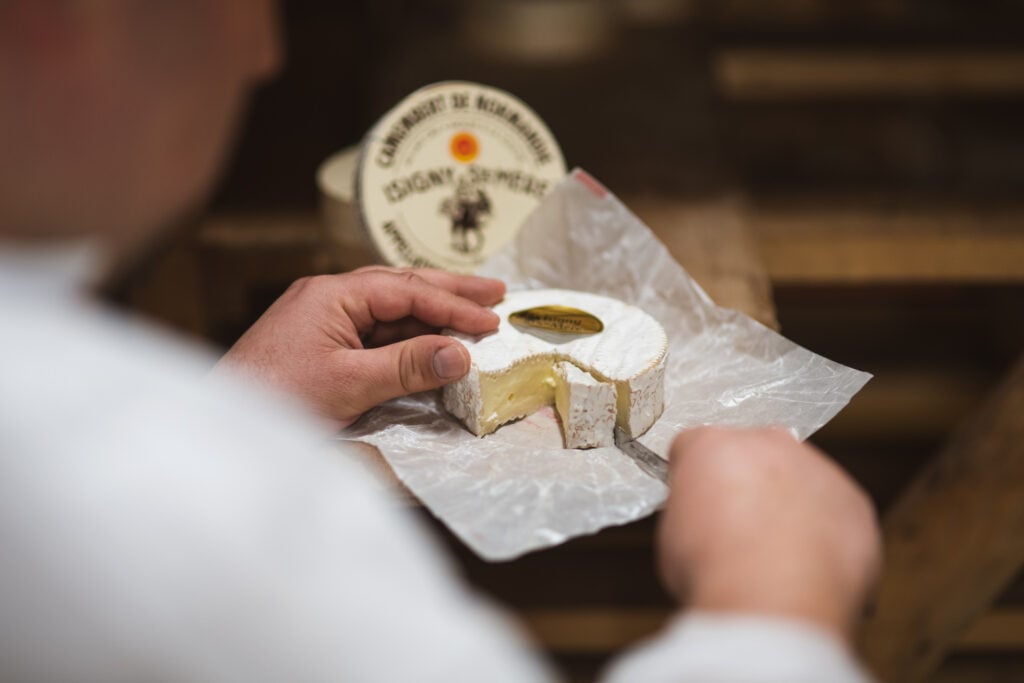 The milk is picked up every 48 hours from our producers, then transported to collection tanks where we take an initial set of samples to ensure that it meets our quality requirements.
The milk is then seeded with lactic cultures and matured for 12 hours at a temperature of 12 to 15°C. This is done with our lactic cultures, which come exclusively from the Isigny terroir.
These fermenting agents give our Camembert cheeses their typical, distinctive taste, playing an essential role in expressing the Camembert's "bouquet".
The milk is poured into vats to which we then gradually add rennet to transform it into curds. These curds are then sliced, ladled and placed in moulds at intervals.
The Camembert cheeses will drain naturally for almost 18 hours.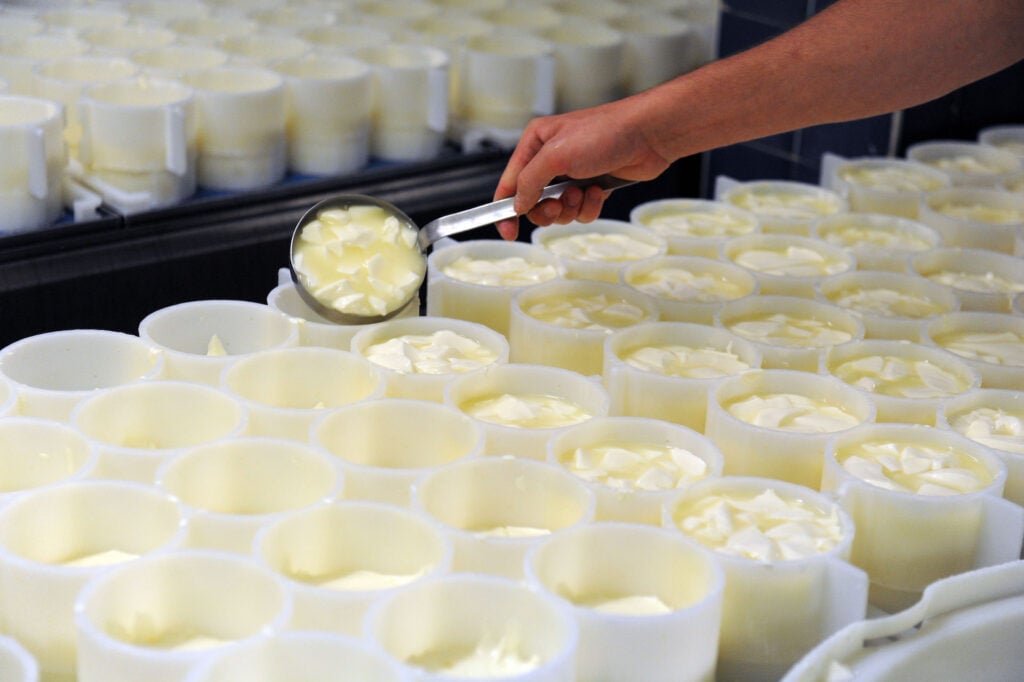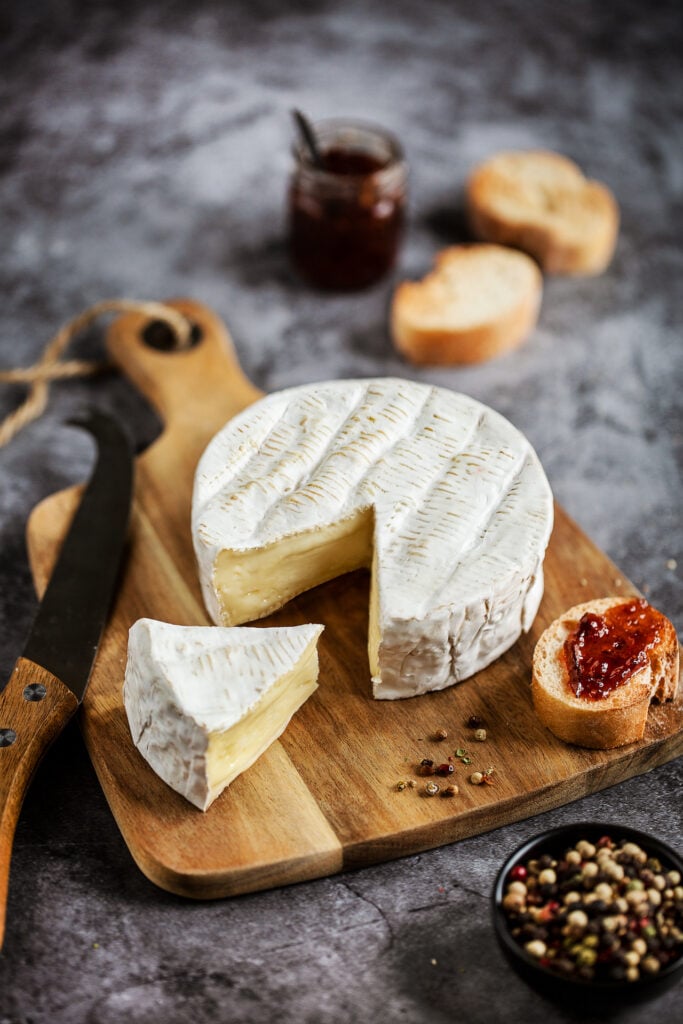 The Camembert will then be salted, dried and they can begin their ripening process in our ripening rooms.
On day four of ripening, the Camemberts release a sweet smell of apples, a sign of great quality.
The cheeses are turned by hand on day five and separated from each other, as our Master Cheesemaker explains:
If we leave the Camembert cheeses next to each other, they stick together like they're in love. To separate them, we would have to tear them apart…
During their time in our ripening rooms, the cheeses bloom and develop a characteristic white rind (due to the penicillium that develops on the surface). After 12 days, they will be transferred to the maturing cellar and it will take another week of ripening before the first Camembert cheeses will be tasted. There are three key stages:
Unripened (1 week)
½ ripened (2 weeks)
3/4 ripened (3 weeks)
Ripened (4 weeks)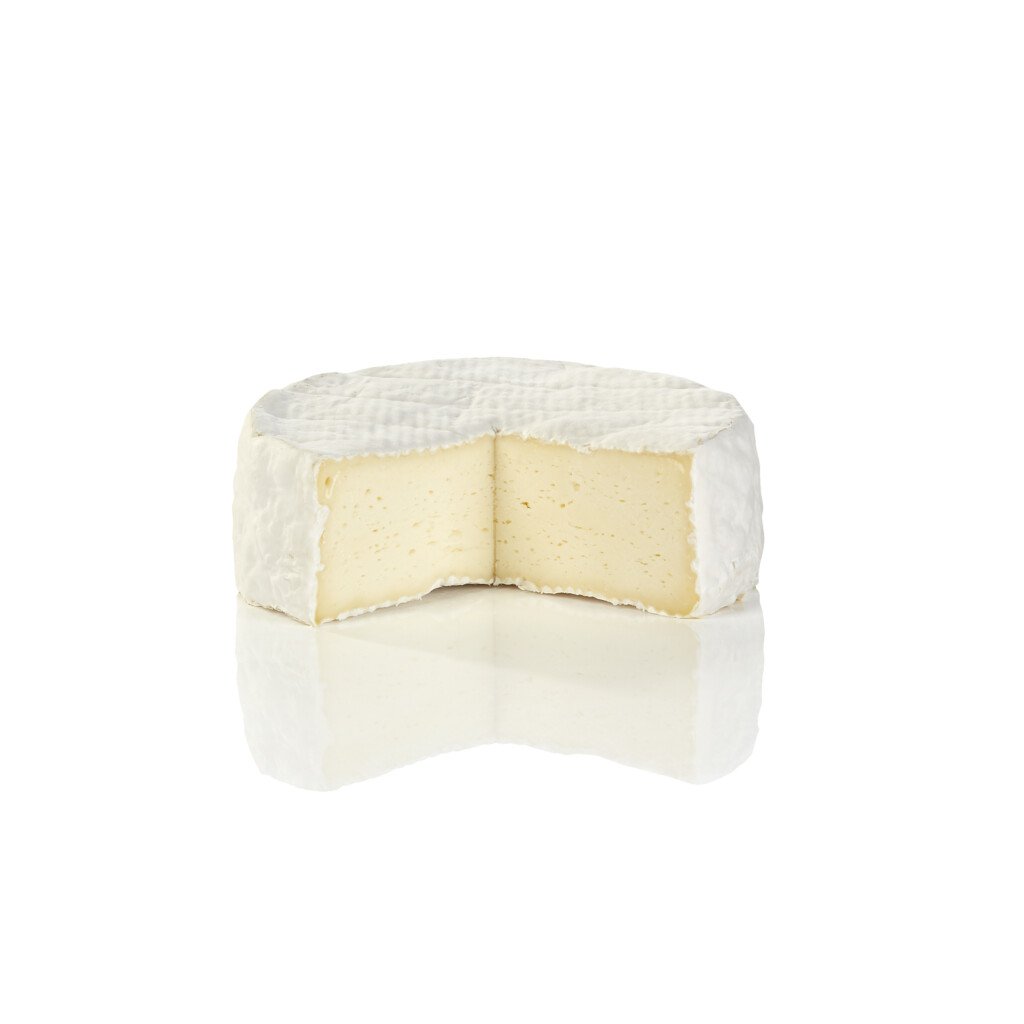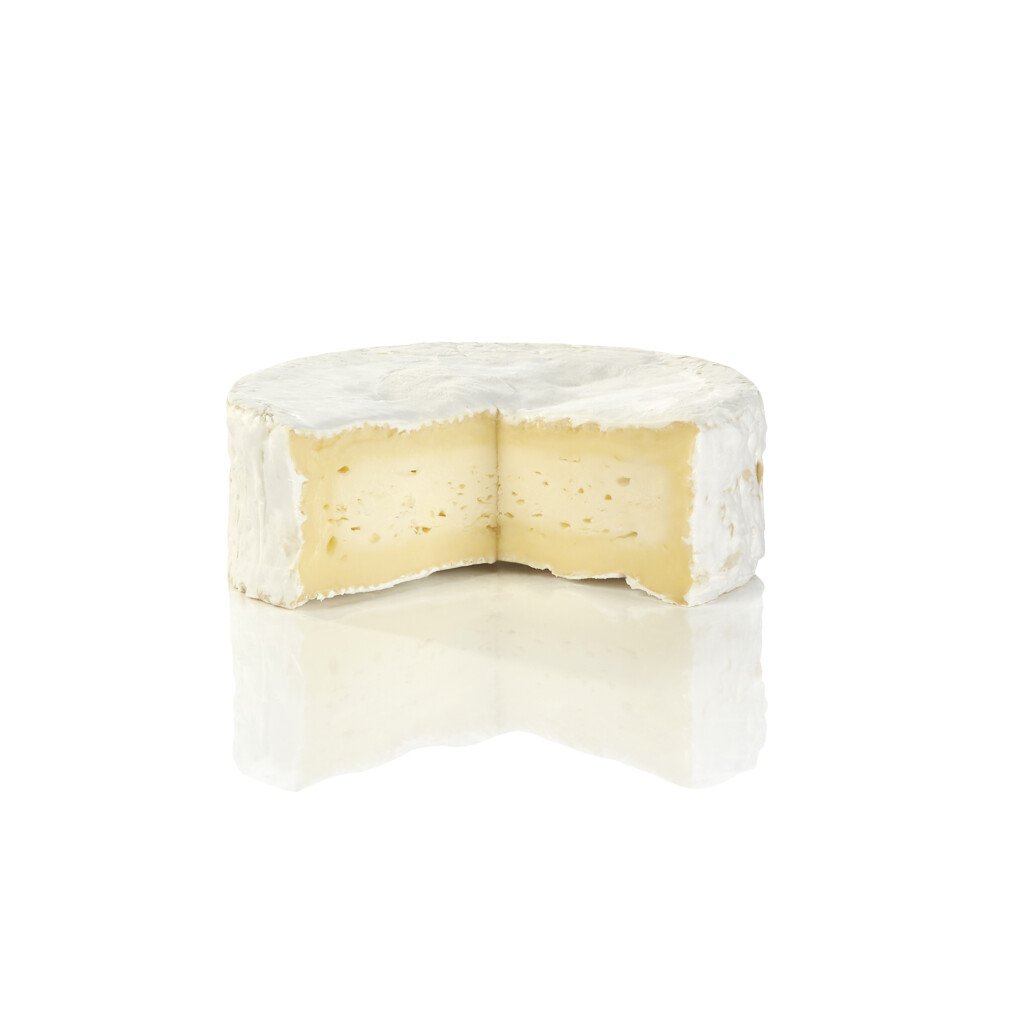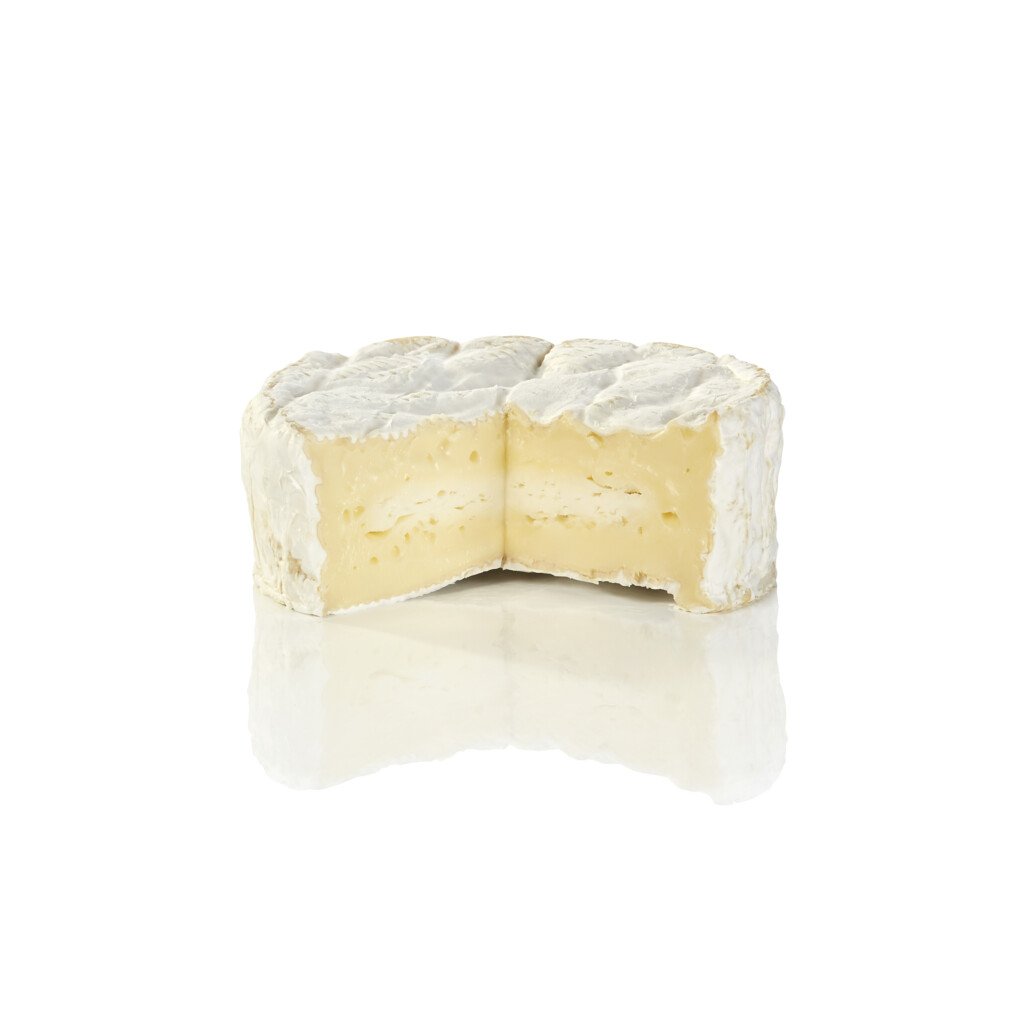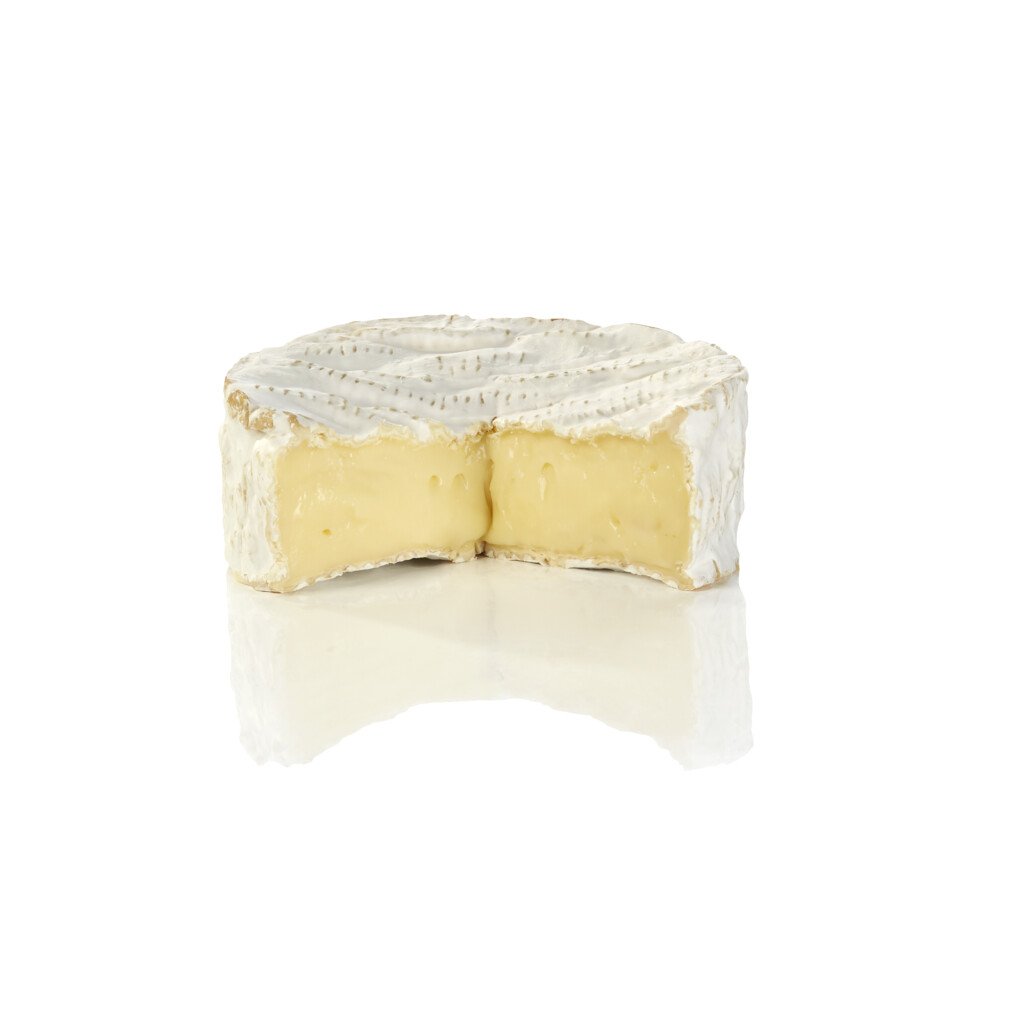 THE SENSORY PROPERTIES OF CAMEMBERT
The milk from the farms of the Isigny Sainte-Mère Cooperative contains naturally occurring lactic flora that are unique and typical of the Isigny Sainte-Mère terroir.
They are present in the Camembert cheeses, enabling connoisseurs to recognise the Cooperative's products from other Camemberts by their taste alone.
Isigny Camembert has a thin rind with surface mould forming a white felt-like coating.
The cheese is ivory to light yellow in colour, when fully ripened. It is smooth and soft. The flavour of this cheese is slightly salty and its taste is milky and mild at first, becoming stronger and more fruity as it ages.
OUR SELECTION OF CAMEMBERT CHEESES
Normandy PDO Camembert
Our Normandy PDO Camembert is made exclusively from the finest Normandy milk, which is exceptionally rich in fat and protein.
Characteristics:
The Camembert is made from the milk of our producers, selected for the quality of their raw milk and falling within the PDO Camembert area of 40 farms
It is ripened in our cellars in Normandy
It is made exclusively from raw milk
It is mould ladled by hand, scrupulously respecting traditional know-how and methods
Mould-ladled Organic Camembert
Our Organic Camembert is made exclusively with milk from our organically certified farms (AB label) in Normandy. This milk not only benefits from the guarantees of Organic Farming, but also from the richness of the Isigny terroir. It is mould ladled and has a creamy, smooth texture.
Characteristics:
Our Organic Camembert is mould ladled
It is ripened in our cellars in Normandy
We only use milk from our organically certified farms (AB label) in Normandy
Isigny Camembert:
Our Camembert cheeses come exclusively from the Isigny terroir, and can be made from raw, microfiltered or pasteurised milk. They are made with Isigny milk and fermenting agents, which give them their distinctive taste. Our Camembert is an authentic, traditional product which, depending on the recipe, will develop a different taste to suit everyone's palate and taste preferences.
Our Camembert cheeses are made using milk from our 380 farms.
Our Oven & Barbecue Camembert:
We have developed Camemberts that are ready to be enjoyed hot, whatever the season. After ripening, the Camembert is generously coated with breadcrumbs. Cooking brings out the delicious taste of the Camembert. Our Oven and Barbecue Camembert is perfect as an aperitif. Each guest can dip a piece of bread, a savoury biscuit, a cherry tomato or a carrot stick into the Camembert… They can also be served with a salad or a platter of cold meats.
Characteristics:
Ready-to-eat Camembert cheese for reheating in the oven or on the barbecue
An Isigny Camembert made with milk from our 380 farms and ripened in our cellars in Normandy
Tasty rosemary, thyme, shallot, black pepper and herb-infused breadcrumbs
An environmentally friendly wooden box made in France
OUR CAMEMBERT WITH CALVADOS
After ripening in our cellars, the Camembert is immersed in a bath of PDO Calvados, then delicately coated in fine breadcrumbs. Our Camembert with Calvados has a subtle, delicate aroma of PDO Calvados. It can be enjoyed as an aperitif, as a main course or at the end of a meal.
Serving suggestion: our Camembert with Calvados can be eaten cold, but can also be reheated for a minute in a lukewarm oven just before serving to make the breadcrumbs crispy but keeping the cheese cold.
A delicate aroma of PDO Calvados.
A product to enjoy as an aperitif, as a main course or as after-dinner cheese