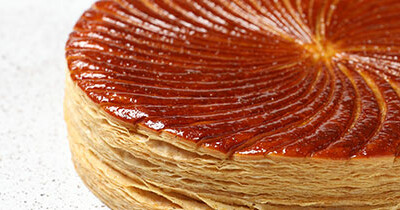 Galette des rois with Isigny butter
16 February 2022
A symbol of conviviality, the traditional Galette des Rois has been reinvented to be eaten in its traditional form, filled or even in a savoury version!
This is an opportunity to draw the kings and queens for dessert and why not for the aperitif, a moment of consumption that is on the rise…
Isigny Sainte-Mère Cooperative has teamed up with Chef Alexis Bouillet to offer recipes for Galettes des Rois to be made with its famous Isigny A.O.P. butter. It is thus proposing a new and original approach to Galettes des Rois with the preparation of 5 new recipes, signed by Alexis Bouillet, World's Best Young Pastry Chef 2011.
The recipe for the traditional galette, will be unanimously appreciated with its good taste of Isigny A.O.P. butter and frangipane. Two other galettes, one inspired by Normandy with Camembert d'Isigny, apple and chicken, and the other with Mimolette Isigny Sainte-Mère, will be sure to be a hit during Epiphany aperitifs.
Also on the menu, for those who like a sweet version of the Galette des Rois with chocolate and hazelnut, and an apple and Calvados A.O.C. galette.
Whether savoury or sweet, the Isigny Sainte-Mère Galettes des Rois recipes all have one thing in common: a golden, light, honeycombed and crispy puff pastry that melts in the mouth and is recognisable thanks to the subtle taste of Isigny A.O.P. butter.