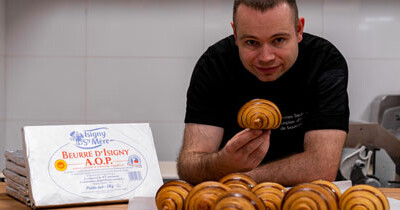 Croissants with Isigny butter !
16 February 2022
Do you know our PDO Isigny Butter for pastries?
This is a butter designed with a particular technicality that has been specially thought out for the manufacture of pastries (croissant). Its suppleness makes it indispensable for the creation of a flaky pastry with the good taste and smell of fresh Isigny Sainte-Mère butter.
Watch Damien Dedun, European Champion Baker, making two-coloured croissants:
Find out more about the special butter for kneading: https://www.isigny-ste-mere.com/en/produits/our-butters/our-pastrymaking-butters/